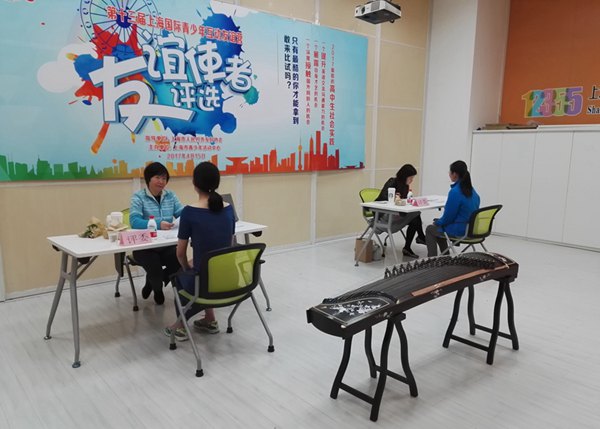 2017 Shanghai International Youth Interactive Friendship Camp held its first public election for the "Friendship Ambassadors" on April 15, 2017. More than 100 students between the ages of 14 to 18 competed to qualify for 15 places for Chinese campers. It's the second year that the friendship camp has had a citywide audition.
The audition took the form of a one-to-one English interview and judged contestants in the following areas: English proficiency, appearance & manner, talent show and comprehensive qualities, among which, English was of prime importance.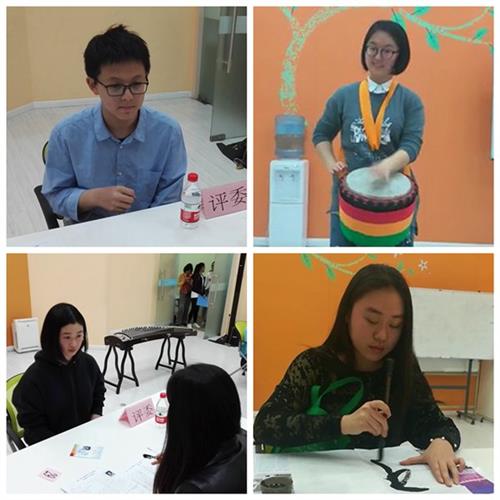 Shi Maoting is a Grade-10 student from Shanghai No.1 High School. He said that, "I like to take part in cross-cultural events and I want to make more foreign friends".
Students also displayed various talents and skills in the audition, such as singing, dancing, instrument playing, calligraphy, essay reciting and magic.
The second-round selection for the "Friendship Ambassadors" will be held in May.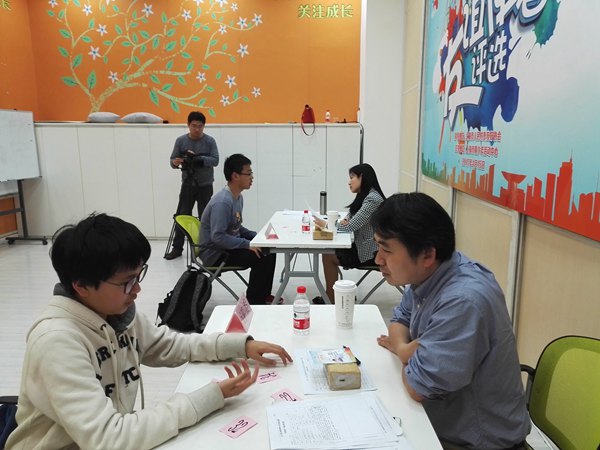 Founded in 2005, the Shanghai International Youth Interactive Friendship Camp is sponsored by the Shanghai People's Association for Friendship with Foreign Countries and the Shanghai Youth Federation and is organized by Shanghai Youth and Children's Activity Centre.
During the camp last year, almost 130 young people from 22 countries experienced Chinese Tie-dye arts, Hanfu culture (traditional clothes in Han Dynasty) and a homestay titled "Being a 'One-day' Shanghainese". They also took part in a variety of activities like the "Theme Show on Nations" and "I Love Shanghai: International Youth Orienteering Competition". Besides, they visited some landmarks in the city, such as Zhujiajiao Ancient Town, Chenghuang Temple, Huangpu River, Disneyland and Shanghai Natural History Museum.
2017互动营'友谊使者'海选启动
4月15日,第十三届上海国际青少年互动友谊营"友谊使者"首轮选拔在上海市青少年活动中心举行,百余名14至18岁的花季少年各显身手,竞争15个炙手可热的名额。他们将代表中国上海参加今年夏天的互动营。
海选采取一对一面试方式,评委们就英语水平、形象、才艺、综合素质等方面对选手们打分。其中,英语交流能力被视为重中之重。
选手中,有不少曾作为homestay家庭接待过互动营外国营员,还有的则是看到同学参与了往届互动营而跃跃欲试。上海市第一中学的高一学生史茂廷表示,"我很喜欢参加这样的跨文化交流活动,也喜欢和不同国家的人交朋友。"
海选现场,不少选手带来了才艺展示,英文歌、拉丁舞、非洲鼓、单簧管、二胡、书法、魔术、朗读……堪比小型的"达人秀"。
本次海选的优胜者将于今年五月进入下一轮选拔。
以"和平、友谊、未来"为主题的上海国际青少年互动友谊营创办于2005年,由上海市人民对外友好协会和上海市青年联合会主办,上海市青少年活动中心承办。
去年,来自22个国家近130位青少年共同体验了中国传统扎染艺术、汉服文化、"做一天上海人"的住家生活,参加了"国家主题秀"、城市定向赛等活动,还在上海的新老地标,如朱家角古镇、城隍庙、浦江游船、迪士尼乐园、自然博物馆等留下足迹。