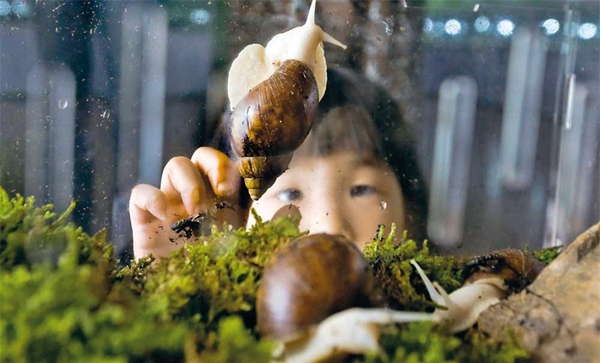 A child is captivated by a snail on display in Shanghai Zoo yesterday. — Wang Rongjiang

Shanghai Zoo is going into slow mode to celebrate International Day for Biodiversity on Monday — with a snails exhibition dominating the day.
Events that the zoo are organizing are designed to show the importance of protecting biodiversity.
The Earth's ecological system comprised a diversity of living things, the zoo said. The aim of biodiversity day was to encourage thinking on how to make the planet a better place.
And snails will play their part.
An exhibition of land snails will be launched from tomorrow and will run for a week. It features more than 300 species — all of them in collections belonging to local conchologist He Jing, who will give a lecture on Saturday, telling what snails eat, and the most commonly seen land snails in Shanghai.
Most land snails are dextral, which makes them easier to mate and breed, he said, but those found in small African islands were sinistral. "The difference might have started from a mutant."
He added that severe competition sometimes led to the sinistral species evolving with similar features as their more common dextral counterparts so as to better survive in the environment.
Visitors will have the chance to find a special new beetle species living at the zoo. Called "Batriscenel-lus xijiaogongyuan," the species was actually found in the zoo — Xijiaogongyuan was the original name of Shanghai Zoo.