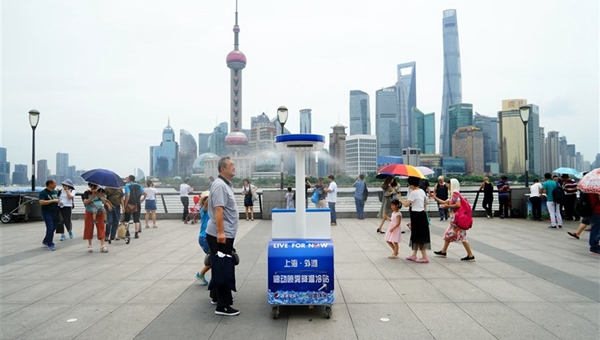 Shanghai's sweltering temperatures are here for the week — and are set to climb still further.

A severe heatwave is forecast this week, with temperatures soaring to and hovering around 40 degrees Celsius.
The city has been on an orange alert — the second in the three-tier alert system — for heatwaves for five consecutive days since Wednesday. The mercury climbed to 39.7 degrees on Friday — the hottest day of the year.
This week, a subtropical high will remain and the city is forecast to be sunny to cloudy, with scattered thunderstorms in the afternoon. But if rain does arrive, it won't help to relieve the heat. In the latter half of the week, temperatures may touch above 39 degrees again, according to Shanghai Meteorological Center.
The ozone air pollution will continue, according to the environmental protection authority.
Changzheng Hospital received this year's first case of severe heat stroke, in which the patient was transferred from Jiashan County of Zhejiang Province. The man surnamed Zhang, 40, accidentally collapsed when working in a brick factory in Jiashan. He is now out of danger.
The heatwave has triggered a spike in dog attacks. From April to June, Shanghai Punan Hospital received 6,620 patients attacked by dogs, up 39.2 percent on the first three months and 11.7 percent from the same period last year. The hospital on average receives 230 to 250 such patients a day, and on one day 290.
"Most patients are dog owners and most incidents take place over weekends," said Dr Jiang Zhaohua. "They are very close to dogs and thus are bitten."
Jiang said many dog owners turn off air conditioners when leaving home. As a result, their dogs fret in extremely hot conditions. Once bitten, people must go to hospital to receive treatment to avoid being infected.
Shanghai's civil affairs bureau has ordered neighborhood committees across the city to visit elderly residents, as well as seniors living alone or suffering from dementia while the scorching temperatures are here.
Senior homes, day-care centers and meal-supply centers for the elderly must take precautions over fire safety, food safety and hygiene, and check power supply, water pipes, air conditioning and fans to ensure they are working efficiently, the bureau said. They should also check water dispensers and medical supplies.