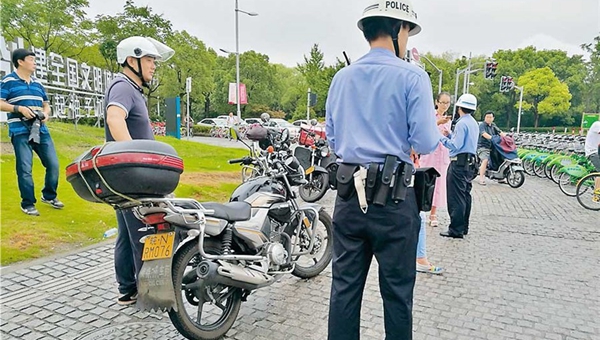 A man illegally riding a motorcycle with a plate from Anhui Province is stopped by the police outside the Line 10 Metro station on Yingao Road E. yesterday morning. — Chen Huizhi

MOTORCYCLES with non-Shanghai plates are banned within the Outer Ring Road in Shanghai, but that doesn't mean they are no longer seen.
Far from it, especially in less busy areas, as motorcyclists eager to earn some extra income look for passengers needing a lift to and from Metro stations.
While shared bikes and buses are available, Metro passengers often prefer motorcycles because of their convenience.
But using them is a risky option because they are operating on an illegal basis.
Traffic police are cracking down on the miscreant motorcyclists — and are doing so in plainclothes to make it harder for offenders to escape being caught.
Yesterday morning, five offenders were caught on Sanmen, Yingao and Songhu roads. One officer from a team of six plainclothes traffic police in the area approached a motorcyclist as his passenger was getting off and pulled away the engine key.
Then the officer showed the offender his police badge and asked unformed colleagues to hand out a punishment.
"The motorcyclists would flee right away once they see police officers in uniform coming around, and with policemen chasing behind they would sometimes break the traffic law and pose a danger to other traffic participants," said Zhao Kangwei, head of the motorcycle team of Yangpu traffic police.
Motorcyclists found with non-Shanghai plates within the Outer Ring Road are fined 200 yuan (US$30), with three demerits on their licenses.
Some offenders said that they have been caught and punished on other occasions.
One of them said: "I ride a motorcycle to save time because my work is too far away from where I live, and I have to pay the fine again and again because I will never be able to afford a Shanghai plate."