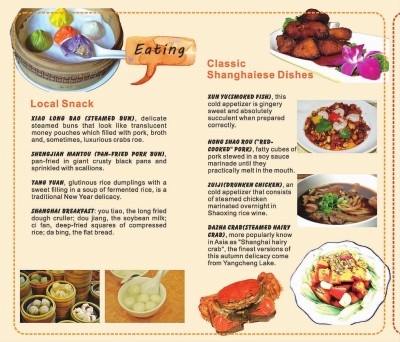 Cuisine guide on the first English version Shanghai tour map. [Photo by Wenhui.news365.com]
The first English version Shanghai tour map produced by the Municipal Institute of Surveying and Mapping has appeared in city's bookstores and is expected to be showcased at Shanghai Book Fair on August 16.
In reference to more than 300 City Guide from 30 countries and based on field research of foreigners' favorite bars and cafes as well as reputable folk restaurants in Shanghai, Li Chenhong, the mapmaker adopted creativity in its drawing both on content and form.
Instead of conventional administrative districts, this map is divided into blocks of historical and cultural landscapes. In addition, it adds cuisine guideline with pictures and introduction of well-known local snacks and classic Shanghainese dishes like steamed bun, fresh water crab, etc. Hand-painted drawings of Shanghai architecture with explanatory words present splendid architecture art at length. Description of large festivals and nightlife in Shanghai are also included in the map.
In aspects of color matching, binding, folding and graphic marks, the map also takes previous tour instructions for reference.
"Most of the present English version maps are free advertising ones, others are rough sketches in travel guide books. There are flaws in content and paper quality is also dissatisfactory. Maps are the best guide. Surveying and mapping workers are responsible for drawing a standard map with their professional knowledge." Li said.