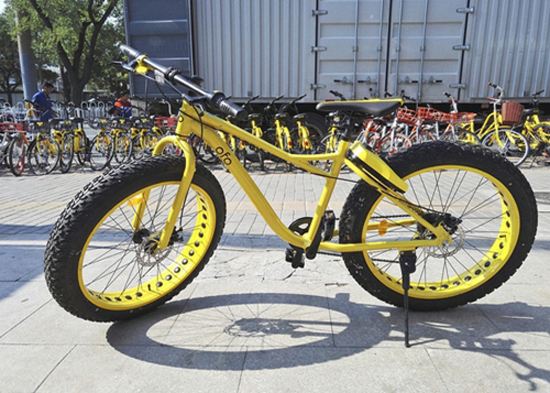 With their fancy look and large wheels, ofo's latest range of bicycles has turned many heads since they began hitting the roads of Shanghai. However, users have mixed opinions on these large-sized bikes.
Featuring a pair of tires three to four times as thick as those of average bikes, the new bicycle is the latest model introduced in Shanghai by bike-sharing company ofo. Thanks to its muscular look, the multi-speed bicycle is more like a vehicle for outdoor adventures.
Even though the impressive bikes have attracted many people's attention, they are not everyone's favorite. For people with petite stature, especially girls, the bike's seat, which cannot be adjusted, is too high. What makes things worse is that its thicker tires result in more rolling resistance during the ride, thus making the vehicle more difficult to control.
According to an industry insider, whether the weight and size of the new model meet relevant standards still remains unknown, so it needs to be reviewed by authorities as soon as possible.