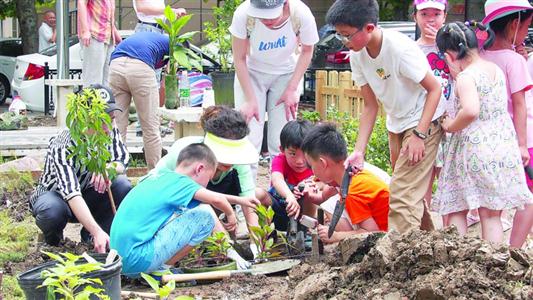 Liu Yuelai is a scholar on landscape architecture from Tongji University. Since 2014, he has called for community residents to build urban farms in their own neighborhood, offering them a chance to engage with nature.

In Liu's residential area, there used to be a piece of waste land. The estate management company tried to grow plants on it, but due to the lack of sunshine, grass seeds could hardly grow. Some residents used it as a parking lot. Some even dumped their garbage there.

Day after day, the land became a waste yard that people tried to steer clear of. Liu, who had been working in horticulture for over two decades, decided to give the land a facelift. He bought seeds of some shade-enduring plants and asked his neighbors to join him in turning the land into a small community garden. They built a fence with waste wood sticks and wires and planted Chinese roses and cactus in the garden, making the lot more colorful and beautiful.
Actually, Liu has been leading a project named Urban Farm since 2014. So far, 21 community farms have been built in different districts in Shanghai, but Liu does not want to stop here. He dreams bigger. His hope is to build 2040 urban farms across the city by 2040.