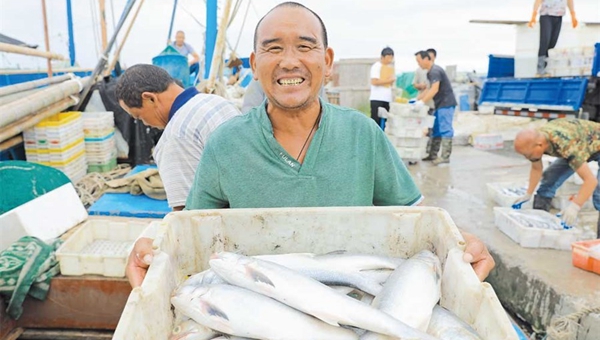 Fresher and cheaper seafood is the order of the day as the annual summer fishing ban in the East China Sea is over.

About 50 registered fishing boats have set out from Luchao and Sanjia ports in the Pudong New Area every day since the ban ended three weeks ago.
They have been bringing back large amounts of fresh fish, shrimps and crabs for local gourmets, the Pudong government said yesterday.
Popular local varieties include the hair-tail, yellow croaker, cuttlefish, sea eel, strip shrimp, swimming crab and mussels. Some fishing boats can capture a ton of such sea products each every day, according to the district's agricultural commission.
This year's fishing ban, the longest and strictest ever, began on May 1 in the East China Sea, the Yellow Sea, the Bohai Sea and the South China Sea.
Law enforcement officers with the commission have stopped 14 illegal fishing cases during the fishing-ban period this year, an official with the agency said.
More seafood will be supplied to local market with lower prices this year due to an increase on production, said Zhou Qiuping, an official with the China Fishery Association.
The price of the popular Suozi swimming crab, or shuttle-shape crab, for instance, has dropped to 80 yuan (US$12.30) per kilogram from 120 yuan in previous years, said Tang Xinjian, a seafood restaurant boss at Luchao port.