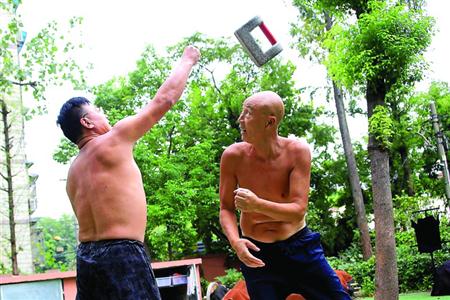 People play stone lock in pairs in Sanquan Park. One man throws the stone lock and the other has to catch it with his elbow, shoulder or back.
In Shanghai's Sanquan Park, there are some special fitness enthusiasts. They are a team of kung fu masters who can play stone lock and stone barbell very well.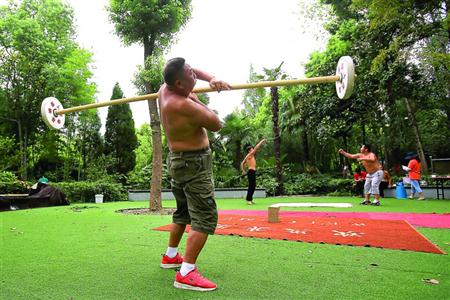 A man plays stone barbell on a training field in Sanquan Park.
Though aged over 50 years old, the kung fu gurus are very agile. They can throw and carry stone locks and barbells weighing as heavy as 50 kilograms.

Stone lock and stone barbell are traditional Chinese sports and are very popular among local folks. Back in 2007, the stone lock and barbell culture in the original Zhabei District was included in the city's list of intangible cultural heritage.
Li Shuqing is a veteran stone lock player. He has practiced the sport for over two decades. The 67-year-old keeps healthy and strong by playing stone lock twice a day on a training field in Sanquan Park. According to Li, playing stone lock has many benefits as it combines strength, skills and fitness.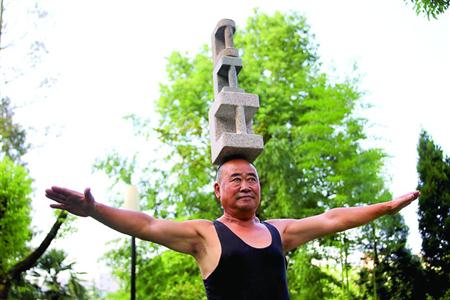 The stone locks on Li Shuqing's head weigh 35 to 40 kilograms in total.
Li also harvests stones to make stone locks on his own. "Many stone locks were made by old craftsmen and I'm reluctant to use the antiques," he explained. Many of the stone locks available on the training field are made by Li.

Bo Weiping and Tong Zheng are two of the few youngsters who practice stone lock. Despite the bruises and scars they get from training, they are still passionate about the sport. "I love playing stone lock. And I want to play it well," said Tong.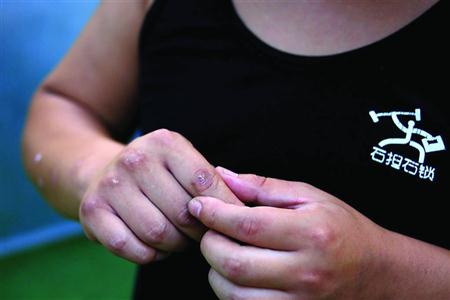 Bo Weiping's hands are covered with scars and calluses.
However, regarding the future of stone lock and stone barbell, Liu Hai, a representative bearer of intangible cultural heritage, is very concerned. He said people know little about them and misunderstand them as dangerous sports. Some kids are very interested, but their parents fear that they get injured.
In fact, it is very safe to play the sports, said Liu. "My biggest wish is to find a few successors to pass down the skills. We can't let the ancient techniques die out in our generation."