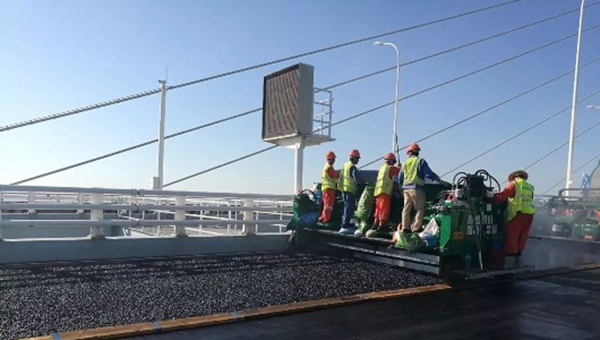 Shanghai, September 13- The steel bridge maintenance work of the G40 Shanghai-Shaanxi Expressway's Shanghai Yangtze River Bridge Section is scheduled for completion on September 25.

At that time, the traffic of the G40 Yangtze River tunnel-bridge will return to normal, providing convenient transportation for the upcoming National Day public holiday.
Starting from Changxing Island, the Shanghai Yangtze River Bridge spans the North Channel of Yangtze River to Chongming's Chenjia Town, with a total length of 16.63 km.
The bridge is regarded as key to the national highway network backbone nodes and also an important channel from downtown Shanghai to Chongming back and forth.
Since its operation, the traffic flow of the Yangtze River Bridge has been increasing rapidly. Due to the influence of large traffic and various weather conditions in the river, some damage has occurred in the asphalt layer of the steel structure.
To ensure the driving comfort and safety of the bridge, the local government decided to start maintenance work towards the bridge steel structure's asphalt pavement, considering the need of downtown Shanghai to Chongming traffic.
The construction of the G40 Shanghai Yangtze River Bridge is about 1.43 kilometers long. It was officially started on July 11, and it is scheduled to be completed on September 25, with a working period of 77 days.