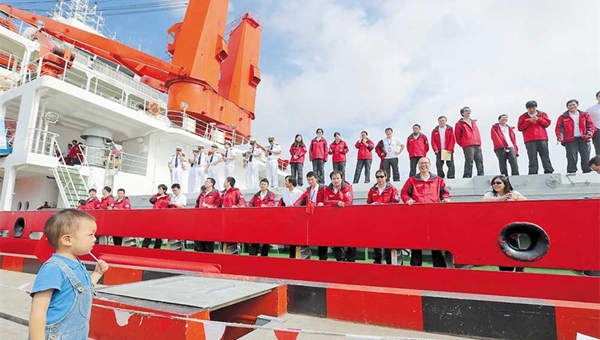 Shi Xuyang welcomes his father, Shi Xing'an, a member of Chinese scientific researcher team, who is on the far right at the front of the ship, back to Shanghai yesterday when the icebreaker Xuelong (meaning Snow Dragon) returned to its base here after 83 days of expedition for the country's first circumnavigation of the Arctic rim.

The expedition team also for the first time traveled through the Arctic's Central Route and Northwest Passage. The exploration of the Northwest Passage, which links the Atlantic and Pacific oceans, will pave way for China's commercial use of the Arctic passage.

The 96 team members traveled more than 20,000 nautical miles during the expedition.

Meanwhile, China's first domestically built polar research vessel and icebreaker has been named Xuelong 2. China's future icebreakers will also be named after Xuelong, said Yang Huigen, head of the Polar Research Institute of China.