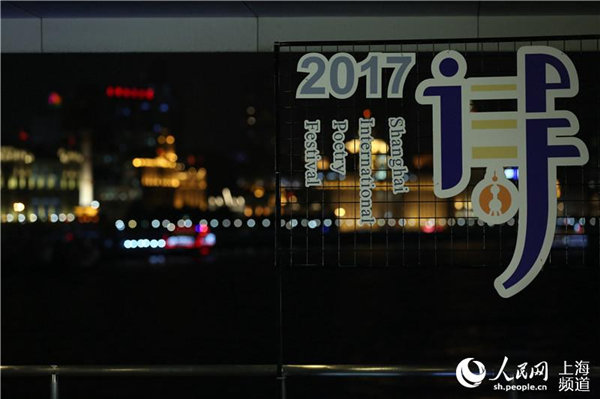 A poetry party is held to celebrate the 2nd Shanghai International Poetry Festival. [Photo/People.cn]
As a highlight of the 2nd Shanghai International Poetry Festival, a romantic poetry party was staged on the city's landmark Huangpu River on the night of October 10.

As the party cruise sailed off a port along the Huangpu River at 7:30 p.m. on October 10, a two-hour-long "Night of Poetry" began. Featuring three different themes ("Land," "Sea" and "Sky"), the party was divided into three parts, taking place respectively on the three floors of the cruise ship.

To add a touch of romance to the party, each member of the audience was given a glowing ball which could change its colors according to people's preferences. They were guided by dancers to different floors, where famed poets like Syrian poet Adonis, TS Eliot poetry prize winner David Harsent, Japanese poet Mutsuo Takahashi and Chinese poets Yang Lian and Zheng Chouyu, who recited their own works to the rippling currents of the Huangpu River. At the same time, the beauty of the poems was transmitted to the audience onboard the ship.
Apart from the poetry party, a series of activities including poetry readings, forums and translation workshops were held during the 2017 Shanghai International Poetry Festival.