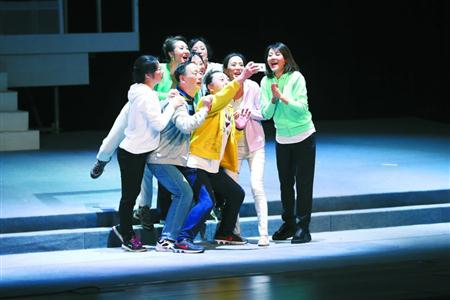 Actors play "Don't Be Afraid, My Friend" at the Magnolia Theater on October 8. [Photo/Jiefang Daily]
A special stage play is put on at Shanghai's Magnolia Theater. Having made its debut performance on the afternoon of October 8, the play is written, directed and acted by cancer patients.

Titled "Don't Be Afraid, My Friend," the stage play casts seven cancer patients. It tells the story of how a director of a cancer recovery school helps cancer patients face up to their diseases and reignites their hope for life.

Dai Rong, who has been battling lung cancer for five years, is the director and playwright of "Don't Be Afraid, My Friend." The play, to some extent, chronicles her experience as a cancer sufferer. In an interview, she said to the reporter, "I want more people to see cancer patients' struggles and efforts. At the same time, I hope the play can empower both cancer patients and those who are in trouble or suffering setbacks."

The play will run for 19 performances until October 20. Tickets sales will later be given away to the Shanghai Cancer Recovery Club. It will be used to fund expenses for the club members to watch the 2020 Winter Olympics in Beijing.