To recall fondly of the history and carry forth the spirit of the Chinese Red Army in the Long March, Shanghai opens its first memorial hall of Red Army's Long March as well as the fifth "Yongfu Cup" veterans calligraphy exhibition at the square of the Chinese People's Volunteer Army Memorial Hall in Shanghai Yongfu Park on October 9.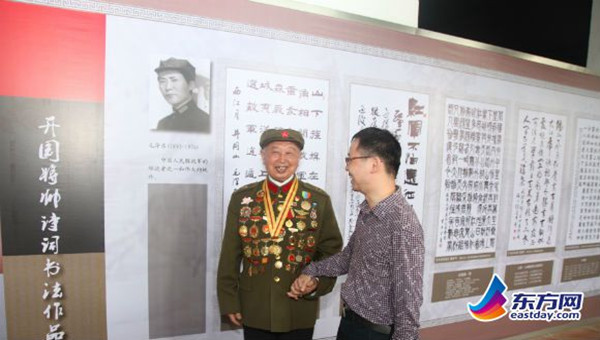 A veteran appreciates the calligraphy works displayed in Shanghai's first memorial hall of Red Army's Long March October 9, 2017. [Photo/Eastday]
More than 300 people including descendants of the founding fathers of the new country, around 100 veterans from across the nation and representatives from all circles attended the event.
As an education base of patriotism, Shanghai Yongfu Park has organized eight batches of personnel under the leadership of old generals to re-step onto the Long March routine. Moreover, it has created a Shanghai-style Red Army's Long March Memorial Hall through taking up the essence of more than 20 national Long March themed memorial halls.
Xu Junqiang, executive director of the memorial hall introduced that representative stories happened during the tough Long March journey have been selected to display to audiences so as to strengthen the ideal and faith of citizens especially teenagers for the great rejuvenation of the Chinese nation.