Shanghai has been the window for Chinese opening up to the world. As a forerunner of reform and opening-up, Shanghai has been welcoming guests from all over the world with a new appearance and inclusive mind. Statistics show that Shanghai has the biggest number of permanent foreign residents in China, increasing from 45.3 thousand in 2000 to 169 thousand in 2016. They come from different countries and regions and work in various fields. Like all local citizens, they experience the city's enormous change. Here we bring their stories to you.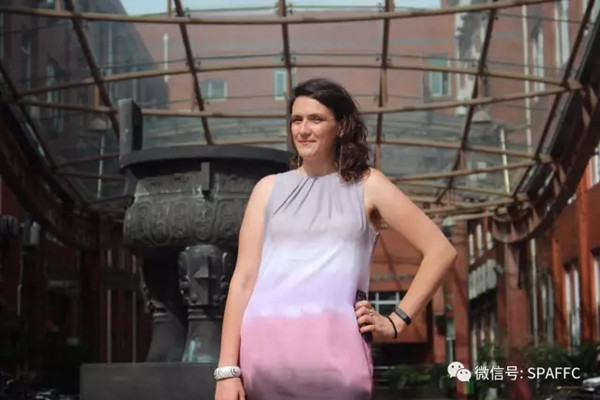 Yue Shan is a Bulgarian student majoring advertising in the School of Journalism at Fudan University. It is the sixth year she has been in China.
Under the influence of her mother, ever since she was young, Yue Shan has been full of imagination and vision to the Chinese culture. Since her mother had told her that China will achieve high-speed development and international influence in future, she chose to study in a high school which is the only one in Bulgaria taking the Chinese language as its required course. And at the beginning of her undergraduate study, she started to apply for studying at Fudan University.
It has been 11 years since Yue learned Chinese. She introduced that after more than one year's study of the language, she could communicate with others in Chinese. However, it is really unimaginable that since she came to Shanghai, she has become a typical female otaku, staying at home all the time.
"My current life in Shanghai is staying in my dormitory from Monday to Friday, and going out for entertainment at the weekend. It is because Shanghai is extremely convenient!"
Talking about shopping in Shanghai, Yue said everything could be paid online. Cellphone apps could help her order various takeaway food, no matter Chinese cuisine or hometown food, such as cheese and red wine, giving her a sense of being at home.
Enjoying the benefit of "Intelligent Shanghai", Yue Shan feels at ease to stay in her hostel, enjoying the comfortable air conditioning and delicious food when watching American TV series. Interestingly, once when she was shopping in a store in her hometown during the vacation time, she habitually hosted a two-dimensional code to the cashier for a payment.
Apart from the relaxing activities, Yue who is studying for a doctor's degree and a "super scholar" works hard on her study in her dormitory. "The Chinese students in Fudan are really diligent, so I must work harder."
Besides the apps for ordering meals and shopping, Yue Shan often rides on a shared bike shuttling in cities with a cellphoneas her guide. "I seldom take cash and need the cellphone to lead my way. Once my cellphone had some trouble, I felt really worried." However, later she found that public transportation signs and guidelines in Shanghai are very user-friendly, she could travel in Shanghai freely without a map or navigation.
Yue Shan's most impressive impression of Shanghai is its internationalization. "Although Bulgaria is a small country, in Shanghai I could find a Bulgarian restaurant. Actually now my favorite food is dumplings, but I would still taste hometown food." Moreover, in Shanghai Yue Shan has made friends from all over the world, and almost all public space is remarked in English.
Regarding Shanghai's public security, Yue said, "When I am at home, by nine O'clock at night, my parents would urge me to go back. But in Shanghai, even on one or two O'clock at night, I dare to stay outside. Here is really very safe."
Yue claimed that she hoped to stay in Shanghai after graduation to find more opportunities and make contributions to the communication between China and Bulgaria. The lady who has been changed into a female otaku by the city will continue to witness its development.


(Story and photos by Jia Haoyu;
Thanks to Fudan University;
Translated by Zheng Qian)