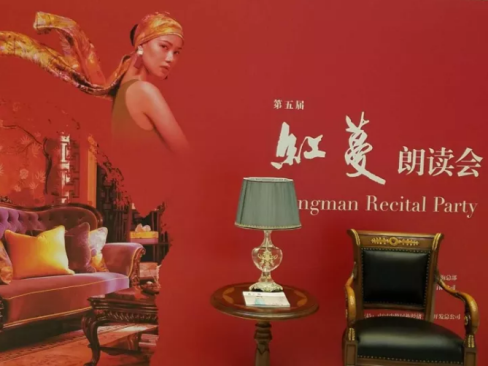 A recital party shedding light on the past and present life in Shanghai was held on October 28.
  At the fifth Hongman Recital Party, five young actors from the Shanghai Drama Arts Center were invited to read articles published in the bimonthly magazine "Hongman" to the crowd in an exquisite art gallery in Jing'an District.
  The five articles selected for the recital event give a vivid depiction of the changes in Shanghai and Shanghai people's lives over the past decades. For instance, by telling the custom of eating moon cakes on the Mid-Autumn Festival, an article titled "The Moon Cakes in Shanghai" introduces the food culture of Shanghai to the listeners. After that, an actor recited in Shanghai dialect an article about a citizen's experiences of moving to different places across Shanghai, showcasing the tremendous changes of Shanghai people's living conditions. When the audience was enjoying the recital of "The Appeal of Silk Scarves," they were also able to admire the fashion of the modern Shanghai through a silk scarf show given by a group of university students from Shanghai Institute of Visual Arts.
  Since it was first held last October, the highly acclaimed recital party has been very popular among Shanghai citizens."Being close to life is a major feature of the recital party. I like this cultural event," a citizen who had attended the event five times told the reporter.