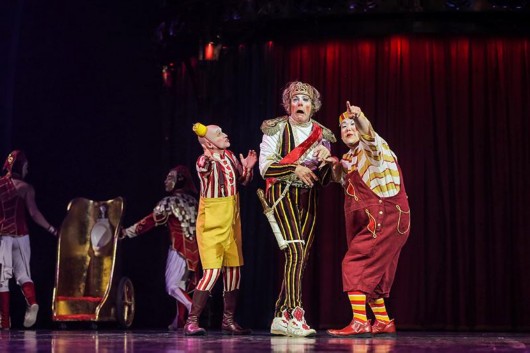 Stage photo of KOOZA [Photo/Cirque du Soleil]
  With authentic acts, storyline, set design, costumes and music, KOOZA by Cirque du Soleil, one of the most famous circuses in Canada, is being staged in the Shanghai Expo Park.
  For the tour in Shanghai, Cirque du Soleil brought the tent to the Shanghai Expo Park, right opposite the National Art Museum of China. The troupe put on their classic show KOOZA under an enormous blue-and-gold tent which serves as a throwback to days when traveling circuses brought their venues with them.
  As a return to the origins of Cirque du Soleil and inspired by the word "Koza" which means box or treasure chest in Sanskrit, KOOZA tells the story of The Innocent, a loner in search of his place in the world. Between laughter and smiles, the show explores the world with audiences in a light and delightful atmosphere. Since its debut in April 2007, KOOZA has become a classic after 10 years of performance to more than five million people.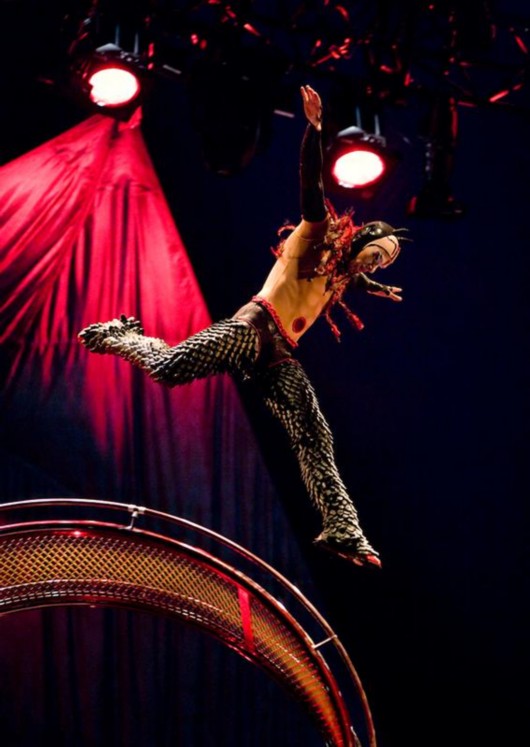 A performer plays stunts on the wheel of death. [Photo/Cirque du Soleil]
  By combining acrobatics and the art of clowning, KOOZA features many stunts, including trapeze, balancing on chairs, high wire, contortion, unicycle duo and the wheel of death and presents an enthralling circus spectacle packed with endless thrills and surprises."Even though I cannot fully understand the humor in the show, the acrobatic performance transcends all language barriers. The wheel of death, in particular, makes my adrenaline rush," said a spectator who came to watch the show for the second time.