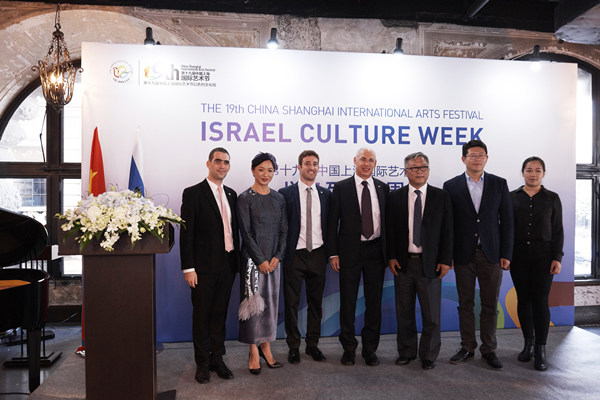 Consul General of Israel in Shanghai Dr. Eyal Propper (4th, left), Vice President of China Shanghai International Arts Festival Li Ming (3rd, right), Israeli pianist Yaron Kohlberg (3rd, left) and Chinese dancer Jin Xing (2nd, left) pose for photos at the event.
Chinese and foreign audiences will have an excellent opportunity to embrace Israeli culture in Shanghai. The Israel Culture Week, as a part of the 19th China Shanghai International Arts Festival will be staged from November 10 to 15, 2017, featuring some of Israel's finest artists and art organizations including the Inbal Pinto Dance Company, violinist Itzhak Perlman, pianist Yaron Kohlberg and singer Ester Rada.
The year of 2017 marks the 25th year of the diplomatic relations between China and Israel. Israel is the country of honor of the ongoing festival which is held from October 20 to November 19.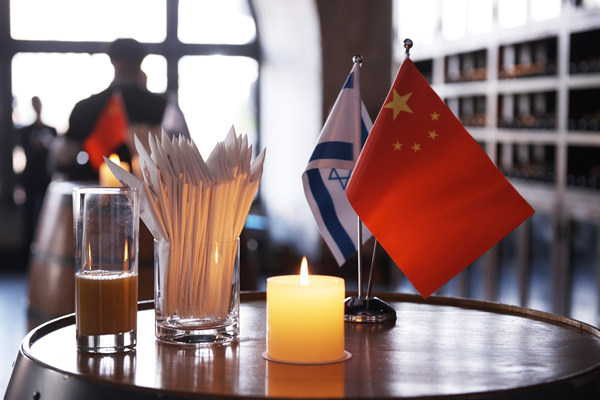 The Israel Culture Week will be comprised of four theater performances, one outdoor show, two campus tours and one education event. Israel's top-notch dance company Inbal Pinto will present an international debut of their newest piece "Ice Tree" as the opening performance.
At the opening reception of the culture week, Israel's top-class pianist Yaron Kohlberg gave two classic pieces, respectively from China and Israel.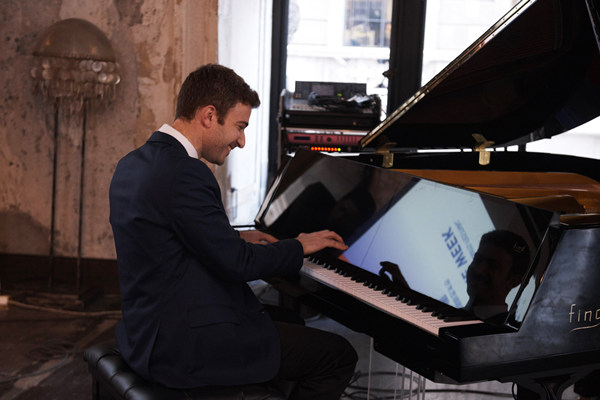 Pianist Yaron Kohlberg
"I live in Shanghai. I am so glad to be invited to perform this afternoon and take part in the Israel Culture Week", Yaron's fluent Chinese amazed a lot of people present. Actually, the pianist has been living in China for two years and has performed in many places around the country.
Famed Chinese dancer Jin Xing shared her thoughts and impressions of Israeli art at the event.
"Eleven years ago, I was invited by the Israeli Ministry of Foreign Affairs to participate in their international arts festival. I was astounded to learn that in this country with a population of only 8 million, about 4 million Israelites went to the theater every year, and that's why their culture is so powerful", said Jin Xing.
Moreover, the dancer hosted an Israeli dance week in Shanghai in 2007, featuring more than 70 artists and 7 dance troupes from Isreal. "I'm so interested in the culture of the country!" She said.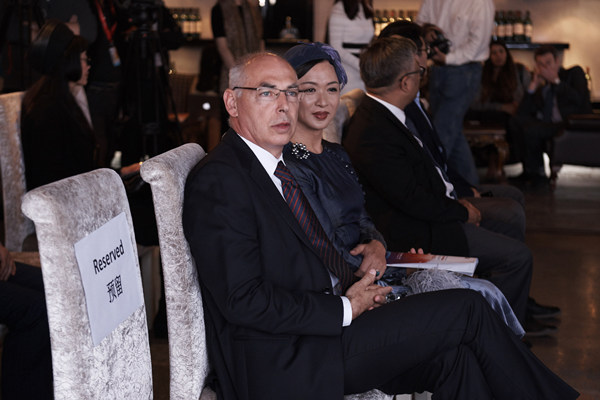 Consul General of Israel in Shanghai Dr. Eyal Propper and Chinese dancer Jin Xing
The China Shanghai International Arts Festival has been an important platform for arts exchanges between China and foreign countries since its establishment in 1999. Over 30,000 artists and more than 570 art organizations from over 70 countries and regions around the world have visited the festival in the past 18 years, said Li Ming, vice president of the festival.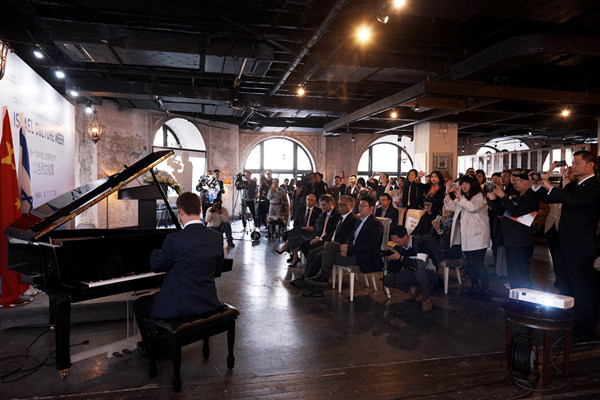 Videos & story by Wang Jiaye
(Photos by Consulate General of Israel in Shanghai)