Foreigners in Jing'an丨GM of The Portman Ritz-Carlton, Shanghai: Jing'an will become a hub of culture, commerce and tourism of Shanghai
  【Starting from the year of 2017, the Shanghai Municipal Foreign Affairs Office, together with district governments, has started hosting the "Internationalized Shanghai Promotion Series" to demonstrate the achievements and future planning of each district and enhance the exchanges and cooperation between Shanghai and the world, so as to helpShanghai become a global city of excellence. After the first event series was held in Yangpu inthe first half year, the second event series, with the theme of "Internationalized Shanghai: Charming New Jing'an, New Development Engine," took place in Jing'an District—the heart of Shanghai. Eastday.cominterviewed some expats living and working in Jing'an, who talked about what they think of the new district, especially after its merger with Zhabei District.】
  【2017年起,上海市人民政府外事办公室携手各区政府,举行"国际化的上海"系列活动,展示各区发展建设成就和规划,促进对外交流合作,推动上海追求卓越的全球城市进程。第一场系列活动已于上半年在杨浦举行,11月7日,第二场系列活动以"国际化的上海:发展新亮点魅力新静安"为主题,登陆上海的心脏地——静安。为此,东方网记者采访了多位生活和工作在静安的外籍友人,从他们眼中发现静安的新魅力。】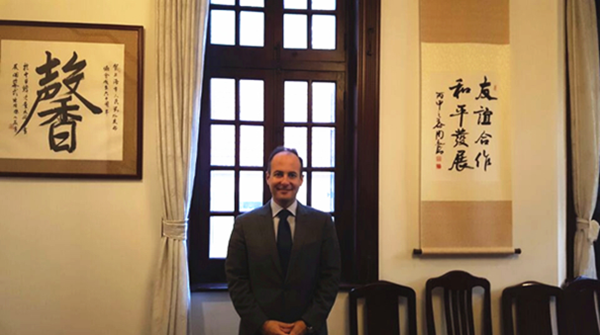 Tarik Temuçin has an interview with Eastday.com in Shanghai People's Association for Friendship with Foreign Countries (SPAFFC).
图片说明:塔里克•铁穆青在上海市友协接受采访
  Located on West Nanjing Road in Jing'an District, The Portman Ritz-Carlton, Shanghai, as theonly platinum five-star hotel in the city thanks to its positioning and quality service, has attracted many tourists from China and overseas. With profound expertise in hotel management, Tarik Temuçin came to Shanghai in 2016, to take charge of the hotel as its general manager.
  作为上海唯一一家白金五星级酒店,坐落于静安区南京西路的上海波特曼丽思卡尔顿酒店多年来以她独特的地理优势以及专业、精致的服务吸引了众多中外游客的光临。2016年,塔里克•铁穆青(Tarik Temuçin)带着他丰富的酒店管理经验,来到上海,担纲酒店总经理要职。
  Wearing a confident smile and a pair of stylish glasses, Tarik Temuçin in a clean suit reminds people of his hometown—the beautiful and romantic Turkey.
  一身干练利落的西装,一副优雅时尚的眼镜,一脸自信从容的微笑,坐在记者面前的塔里克不禁让人联想起他的家乡——浪漫而美好的神秘国度土耳其。
  "Many people say that my Chinese surname Tiemuqing is special. It was given by my assistant in Sanya." Tarik has been living in China for almost 7 years. Before coming to Shanghai, he worked in Sanya and Beijing. But his connection with China is more than this."In Turkish,'çin' in my surname means China,"said Tarik.
  塔里克告诉记者:"许多人都说我的中文姓'铁穆青'很特别,这是我在三亚工作时,我的助理帮我起的名字。"原来,塔里克已经是中国的老熟人了。来到上海前,他就先后在三亚和北京的酒店任职,如今,塔里克已在中国生活了将近7年。不过,他与中国的缘分不止于此。塔里克说,在土耳其语中,Temuçin中的"çin"意思就是"中国"。
  Tarik's family lives on West Nanjing Road, the busiest and most prosperous place in Jing'an. In his spare time, he likes to walk along the lanes and streets nearby, together with his wife and daughters. What impresses himmost is not the modern buildings or skyscrapers, but the strong local culture and dynamic life in Jing'an, even in the bustling Jing'an Temple area. There are a lot of activities for kids and the elderly to get involved. He told the reporter,"In Jing'an, you can explore the local culture. There are a lot of places of shopping and traveling. It is also an international district. The combination is what makes Jing'an so unique." What's more, he also thinks that the local people are kind and helpful, bringing much fun to the life of his family.
  塔里克一家居住在上海最热闹、最繁华的南京西路,闲暇时,他便会带着妻子和女儿,徜徉在南京西路的大街小巷。但静安区让他印象最为深刻的,并不是现代化的商务高楼,而是弥漫在其周围的浓郁的文化气息。即使在车马喧嚣的静安寺商圈,也能寻找到一丝生动鲜活的烟火气,不论是儿童还是老年人,都能找到属于自己的一片乐土。塔里克说道:"在静安,你可以尽情探索本地文化,也可以尽情享受购物旅游的乐趣,这里还是一个国际化的区域,这样的融合,正是静安的独特之处。"而在与友好和善的上海本地居民接触的过程中,塔里克一家也收获了不少欢乐。
  Zhabei and Jing'an districts were merged last year. Speaking of the new Jing'an, Tarik said that it not only becomes bigger in size, but also demonstrates the strong development of the city, and will continue to attract more enterprises and funding."With this, we can expect more industrial parks, new communities, a dynamic business environment as well as tourist attractions." While developing culture and entertainment, the government encourages more enterprises to come to the new Jing'an, which will help both areas develop better in the future. He believes that in a few years, Jing'an will become a hub ofculture, commerce and tourism of Shanghai. Take thehospitality industry for example. Within one year, there will be two more hotels to settle in Jing'an. But what's the most important is that Jing'an has done very well in combining modernity and cultural preservation.
  2016年,闸北与静安"撤二建一",对于如今的新静安,塔里克认为,这不仅仅意味着地域范围的扩大,二区的合并显然是城市强劲发展的体现,新静安将吸引更多的企业和投资。"未来这里将会有更多的工业园区,商业环境也会变得更有活力,还会有新的社区和旅游景点诞生于此。"他也看到,政府在大力发展文化和娱乐的同时,也鼓励企业入驻新静安,促进新旧区域的融合发展。塔里克相信,几年后,崭新的静安区定将成为上海的文化、商业和旅游中心。就拿酒店行业来说,未来一年,就将有两家酒店入驻静安。但最为珍贵的是,静安区在朝着现代化发展的同时,依然注重保护历史文化。这在塔里克看来尤为重要。
  How can Jing'an become a magnet to attract more international talent on its way to becoming more internationalized? Tarik gave someconstructive advice,"Firstly, enterprises can consider providing more education and training opportunities for their staff. They may also reconsider the conditions of the staff dormitory, especially to reduce the young employees' economic burden. From the perspective of enterprises, I'm looking forward to a more simplified process to improve the efficiencyof applications. Lastly, the government may consider offering an international school to the foreign families in the district, as a way to keep more international talent to work and live here."
  如今,静安正向国际化的目标持续发力,如何成为国外人才向往的热土?塔里克也就此给出了切实的建议:"企业可以为员工提供更多的教育和培训机会、改善员工的住宿条件、减轻年轻员工在生活上的经济压力。从提高效率的角度来说,希望政府能为企业简化相应的行政审批流程。此外,我也希望静安能建一所国际学校,为在此居住的外籍家庭提供便利。这不失为一种吸引国际人才来此就业和生活的方法。"
  (The interview is arranged by Shanghai Jing'an District Tourism Bureau.)
  (此文采访由静安区旅游局安排。)