【Starting from the year of 2017, the Shanghai Municipal Foreign Affairs Office, together with district governments, has started hosting the "Internationalized Shanghai Promotion Series" to demonstrate the achievements and future planning of each district and enhance the exchanges and cooperation between Shanghai and the world, so as to helpShanghai become a global city of excellence. After the first event series was held in Yangpu inthe first half year, the second event series, with the theme of "Internationalized Shanghai: The New Development and Attraction of the New Jing'an," took place in Jing'an District—the heart of Shanghai. Eastday.cominterviewed some expats living and working in Jing'an, who talked about what they think of the new district, especially after its merger with Zhabei District.】
  【2017年起,上海市人民政府外事办公室携手各区政府,举行"国际化的上海"系列活动,展示各区发展建设成就和规划,促进对外交流合作,推动上海追求卓越的全球城市进程。第一场系列活动已于上半年在杨浦举行,11月7日,第二场系列活动以"国际化的上海:发展新亮点魅力新静安"为主题,登陆上海的心脏地——静安。为此,东方网记者采访了多位生活和工作在静安的外籍友人,从他们眼中发现静安的新魅力。】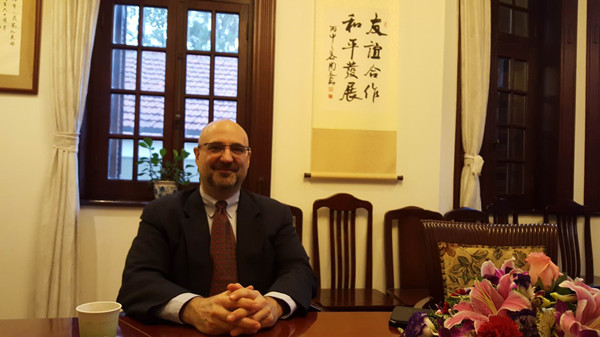 Wiley Krapf at Shanghai People's Association for Friendship with Foreign Countries
  Wiley Krapf在上海市友协接受采访
  We have an interview with Wiley Krapf, an adjunct professor living in Jing'an District whose hometown is Chicago, U.S.. He first came to Shanghai in 1994 and moved to Julu Road in 2007.
  我们与来自美国芝加哥的华东政法大学副教授Wiley Krapf聊了聊。1994年,他第一次来到上海这座城市,在2007年他搬家至静安区巨鹿路,开始了他全新的生活。
  Mr. Krapf has a Chinese name, Ke Weili. It's his eleventh year teaching at this university, and he thinks it is a great job for he gets along very well and has a lot of fun with his students from all over China.
  名片上赫然印着其中文名"柯巍历",已经在华政执教11年之久并热爱这份工作的柯先生与他的中国学生们相处得很融洽。
  "I feel completely at home and safe here in Jing'an while it is not always safe in my hometown Chicago. One of the things I really like here is the diversity of food. On the other hand, I'm keen on the mix of the old and the new, such as modern buildings and buildings from the 1800s and early 1900s, and the combination is so unique, giving Jing'an real charm.
  "静安就是我的家,这里很适宜居住并让人有安全感,你知道我的家乡芝加哥,那儿并不总是安全的。当然我之所以喜欢静安还因为这里有许多美食可以选择。口腹之欲之外,这个地方将新旧事物完美地融合,在这里你可以看到现代化的高楼与19、20世纪的老建筑,这非常独特,也给予了静安非同寻常的魅力。"
  Mr. Krapf has a long connection to Jing'an. His wife is Chinese, growing up on Yuyuan Road, and her parents lived here. He indicates that Jing'an has changed a lot since 1994."When I first came here in 1994, there were not so many automobiles or tall buildings."
  柯先生与静安有着不解之缘。他坦言夫人在愚园路长大,岳父岳母过去也一直住在静安,而这块宝地已经在这20多年间发生了巨大变化,当时并没有这么多汽车和高楼。
  He said it is livable and convenient for foreigners to live here because he can get almost anything right outside the door or by taking only a short walk, and that's why he lives here. For instance, he can reach Jing'an Park in five minutes.
  他表示,静安是个很适合外国朋友居住的地方,这里一切都很便捷,几步之遥,你的需求就可以被满足。比如,Wiley花五分钟就能到达静安公园。
  He walks through the park a lot, seeing local people enjoy activities like dancing, Tai chi, playing the erhu and flying kites which he hasn't seen in the United States and make him happy. He added,"The local people are so social and do things together in groups like meeting in the park early in the morning for exercise while Americans are more individualistic." Besides, Jing'an Temple is right in the middle of the modern buildings, very distinctive and interesting. There are also many cultural and historic attractions to him such as Changshu Road, museums and the former residences of Cai Yuanpei and Mao Zedong.
  公园里有着完全不同于美国的生活——人们跳舞、打太极、拉二胡、放风筝、晨练,他总是乐此不疲地看着,看到一群人一起玩让他很开心。而在钢筋水泥之中的静安寺带给他独特有趣的印象。静安充斥着文化和历史氛围,柯先生流连于博物馆,亦参观过毛泽东、蔡元培等名人故居。
  He was involved in the English version of the Jing'an Times for years, so he knows a lot about the changes and regulations in this district. In terms of Jing'an's merger with Zhabei District, he kind of misses the old Jing'an which he thinks is small but so powerful and considers the merger brings difficulties to the government in administration to a certain extent.
  柯先生曾多年参与静安时报英文版的编辑工作,故而了解这里的巨大变化和政策法规等,谈到静安与闸北合并,他说新静安可能会给政府的管理带来一些新的挑战,而自己更怀念那个虽小却充满力量的老静安。
  However, he expressed that the government has brought the innovation parks together where a lot of high-technology companies are located and helped them grow, and new Jing'an has successfully attracted international companies to settle down, which is a big push for its development.
  但是他表示,政府把一些高新技术企业聚集的创意园区合并到一起并加以扶持,以吸引国际公司入驻,这是新静安发展的强大推动力。
  He hopes all the old buildings won't go away since it's vital to preserve the history of this place.
  他有个心愿:希望静安的老建筑永远不会消失,希望静安永远保留它的历史价值。
  The article is arranged by Shanghai Jing'an District Tourism Bureau.
  (此文采访由静安区旅游局安排。)