【Starting from the year of 2017, the Shanghai Municipal Foreign Affairs Office, together with district governments, has started hosting the "Internationalized Shanghai Promotion Series" to demonstrate the achievements and future planning of each district and enhance the exchanges and cooperation between Shanghai and the world, so as to helpShanghai become a global city of excellence. After the first event series was held in Yangpu inthe first half year, the second event series, with the theme of "Internationalized Shanghai: The New Development and Attraction of the New Jing'an," took place in Jing'an District—the heart of Shanghai. Eastday.cominterviewed some expats living and working in Jing'an, who talked about what they think of the new district, especially after its merger with Zhabei District.】
  【2017年起,上海市人民政府外事办公室携手各区政府,举行"国际化的上海"系列活动,展示各区发展建设成就和规划,促进对外交流合作,推动上海追求卓越的全球城市进程。第一场系列活动已于上半年在杨浦举行,11月7日,第二场系列活动以"国际化的上海:发展新亮点魅力新静安"为主题,登陆上海的心脏地——静安。为此,东方网记者采访了多位生活和工作在静安的外籍友人,从他们眼中发现静安的新魅力。】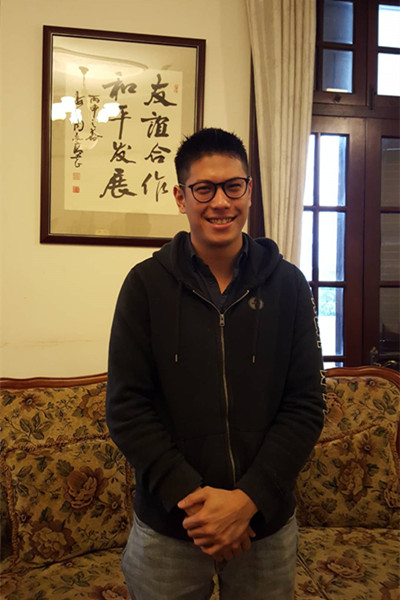 Angel Hentschel at Shanghai People's Association for Friendship with Foreign Countries
  Angel Hentschel在上海市友协接受采访
  Angel Hentschel, born in 1988, is half German and half Filipino, grew between Singapore and Philippines, went to college in the Netherlands, and he moved to Shanghai in November 2013 because Shanghai was changing fast and he wanted to be part of that.
  出生于1988年的Hentschel曾在多国生活、学习和工作——在新加坡、菲律宾长大,荷兰念大学,还是德菲混血。他看到上海日异月新,于是2013年11月他来到这里。
  When he first got in Shanghai, he lived with his parents for about one year and a good friend of his family was the general manager of Jing An Shangri-La, offering a job to him, partly based on his language skills including French, German, English, Tagalog and Spanish, and now he is the western operations manager of the hotel.
  来到上海的第一年,Hentschel与父母住在一起。由于法语、德语、英语、菲律宾塔加路族语和西班牙语都难不倒他,一位时任静安香格里拉大酒店总经理的家族好友向他发出了工作邀请,现今他已升至该酒店运营经理。
  Last year he moved to Jing'an, saving much time it took on the road. Mr. Hentschel sees many foreigners traveling by bus like Bus 71 which is convenient and very well connects several areas, which let him take nearly just ten minutes to get anything he needs to go through in his daily, like food.
  去年他搬到了静安,因而大把上下班路上的时间空出来了。像许多其他外国人一样,他经常乘坐方便的71路,几乎只消十分钟他就能到达自己想去的餐馆或者满足其他生活所需。
  He is also surprised by that one of every five guests is foreigner, and most of them are Chinese who can well communicate with him in English.
  令Hentschel先生惊讶的是,其每五位客户中的一位就是外国人,其余几乎全是能用英语无障碍交流的中国人。
  He thinks the new district is very clean and compact. Outside the residence which is very close to his working place there are three trash cans in different colors, efficient to keep it clean.
  新静安非常干净、紧凑,他举例说住所外有三个分类垃圾桶,这对小区卫生非常有帮助。
  He said,"The warmth of the local people also impresses me because it doesn't happen all over the world." People, most of which are Shanghainese, usually make effort to say "Hi" to him and ask about their pets playing together when he takes his dog for a walk with his girlfriend in the open concrete space near where he lives. They speak very slowly and patiently if finding he cannot speak Chinese or understand.
  Hentschel说:"当地人非常热情,并不是在世界上每个地方都会有这种体验。"他与女朋友外出遛狗的时候,大多数人、以上海人为主,总是主动与他打招呼或者询问他是否能让他们的狗狗一起玩。而听闻他蹩脚的普通话后,人们总是耐心地放慢语速与他聊天。
  What differs else in this district is that younger people walked very fast on the road, especially on the way to work or home, while people are more relaxed in Singapore and Philippines, according to him.
  另外,他观察发现,由于上海的生活节奏非常的快、静安尤甚,路上的年轻人总是行色匆匆,尤其是在上下班路上,而菲律宾和新加坡的人们看上去更加放松。
  Also, Mr. Hentschel expressed, local people changed from years ago – they follow the public rules like getting on and off the bus respectively across the front and back doors and waiting for people to get off before getting on the metro. He's glad that the government has been aware of and fixed things like this.
  令Hentschel高兴的是,在静安生活、工作的人们改变了很多,现在大家都会遵守公共规则,比如上下车分前、后门,地铁出行会懂得礼让,他表示显然政府意识到了不足之处并成功地改变了公众的习惯。
  The article is arranged by Shanghai Jing'an District Tourism Bureau.
  (此文采访由静安区旅游局安排。)