Year of China in Russia and Sino-Russian Chorus International Symposium is to be held on November 24 to 26.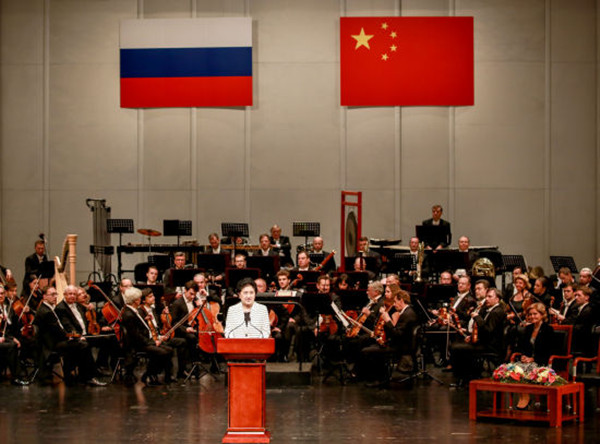 Russian Deputy Prime Minister Olga Golodets and Vice Premier Liu Yandong of the State Council attend the opening ceremony of the 2017 Year of China in Russia.[Photo provided by CAEG]
As an essential part of the festival which is co-sponsored by the Ministry of Culture of the People's Republic of China, the Russian Federation Ministry of Culture and the Russian Embassy in China, the symposium is jointly organized by Shanghai Normal University and the Chinese Organizing Committee of International Choral Festival to showcase the achievements of chorus art's development in both countries.
Chorus art plays an extremely important role in Russian culture. China is also the country which has the fastest development of chorus in the world. Conductors, works and performances of the two countries'chorus are all inextricably linked.
Three famous Russian conductors from Moscow State Tchaikovsky Conservatory, The St. Petersburg State Conservatory, Moscow National Normal University, five influential conductors from Chinese institutes such as Central Conservatory of Music, China Conservatory of Music, etc. and one outstanding Hungarian conductor are expected to hold a total of nine academic lectures and live rehearsals and two Sino-Russian chorus concerts. Excellent choir groups from China will get on stage, creating a new level for chorus exchange both at home and abroad.
It is reported that this seminar has successfully attracted nearly 300 choral conductor representatives from colleges and universities nationwide to participate in. The opening and closing ceremonies will be held respectively in Shanghai on the evening of September 23 and September 26 with the number of performances of the two concerts being expected to reach to more than 600.