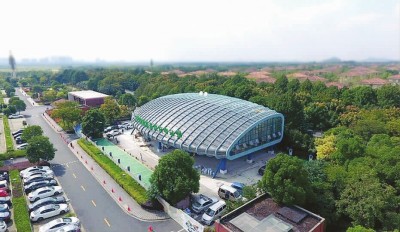 A bird's eye view of the station [Photo/Tellus Power Group]
  The world's biggest public photovoltaic charging station debuted in Shanghai's Songjiang District on Wednesday, November 15.
  In the shape of a spaceship, the station with a silver appearance is located near the Shanghai Happy Valley in Songjiang. It is independently invested, built and operated by Tellus Power Group. Featuring 1,002 pieces of highly efficient photovoltaic power panels, the three-story station boasts a conversion efficiency of 22% and can generate 500kWh of power for up to 400 electric vehicles (EVs) each day. Equipped with 44 charging points, the station can charge an EV to 100% in as fast as 20 minutes.
  According to Tellus Power Group, by combining power generation and energy storage, the charging station can offer charging services in any weather conditions, instead of relying on external energy. Even when there is no sunshine, the station can still run smoothly, thanks to its huge capacity.
  EVs are usually regarded as a symbol of low-carbon life. As photovoltaic power generation produces no pollutants, EVs powered by photovoltaic energy can be more environmentally friendly.
  In terms of size, the charging station in Songjiang is the world's biggest. Moreover, for the first time ever, it integrates charging service with other services, such as car renting, leisure, new energy vehicle exhibition and so on.