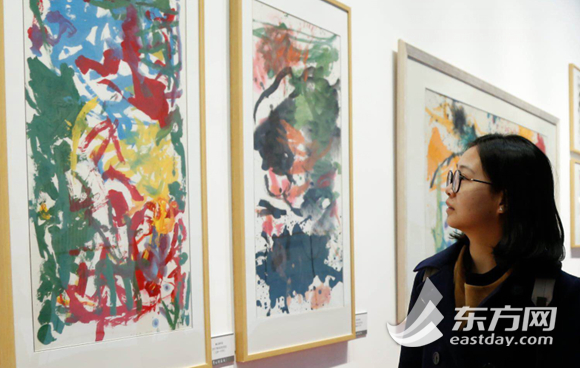 An exhibition featuring the works of an art prodigy took place at the China Arts Museum on November 18.
  More than 40 paintings created by Cao Yiduo, an artist who is only three years old, were displayed for public view. A seminar on Cao Yiduo's works was also held last Saturday, where over 30 educators and painters from Shanghai, Beijing, Anhui, Jiangsu, Guangdong and Hainan gave high acclaim to Cao Yiduo and his paintings.
  Having been painting since he was under two years old, Cao has created almost 200 paintings so far. According to his father, the boy's talent in painting was discovered by accident. When the boy was 1.5 years old, the family went on a holiday, only to find that the kid had painted his room with paintbrushes. Finding the doodling quite interesting, Mr. Cao encouraged his son to keep painting.
  When asked whether he wants the boy to choose painting as his career, the father said a peaceful life is all that he wishes for his son, since a kind heart and a happy life are more important.