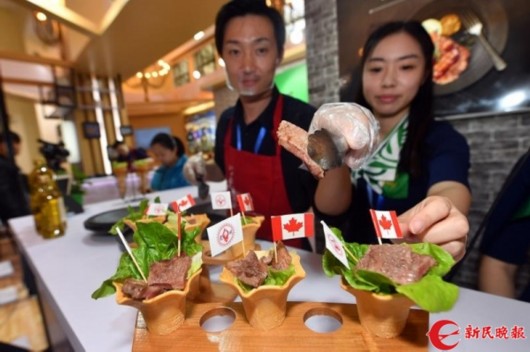 Visitors are invited to taste the beef.[Photo/Xinmin Evening News]
  2017 China International Food Exposition began on November 16. The new convenient and efficient products highlighted the Exposition which targeted at the new demands of consumption upgrade with the "Internet +" model and technologies.
  At the position, visitors can get the whole breeding process on handset after scanning the QR code on the octopus; the fresh vegetables will fall immediately if the button on the vegetable vending machine is pressed; it only takes 45 seconds to cook the frozen cooked noodles.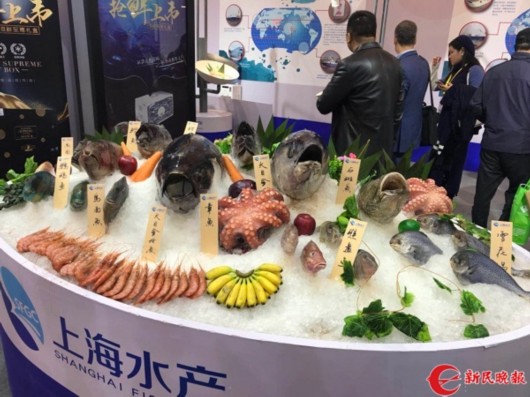 Shanghai Fisheries Group Company brought seafood.[Photo/Xinmin Evening News]
  The green vegetables growing in the glass room live on the organic fertilizer nutrition solution, escaping from the heavy metal pollution and pests.
  In addition to the new products, new business models emerged at the Exposition. Visitors can try the food in the offline experience shop and order the goods in the application on their phone.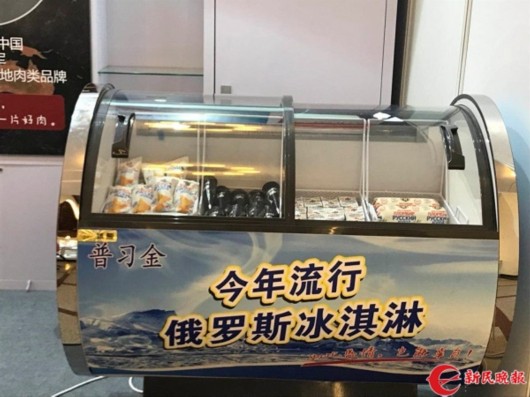 Ice-cream from Russia [Photo/Xinmin Evening News]
  "The Belt and Road" exhibition area was added at the annual Exposition, showing imported food from Russia, Thailand, Japan and New Zealand, etc.