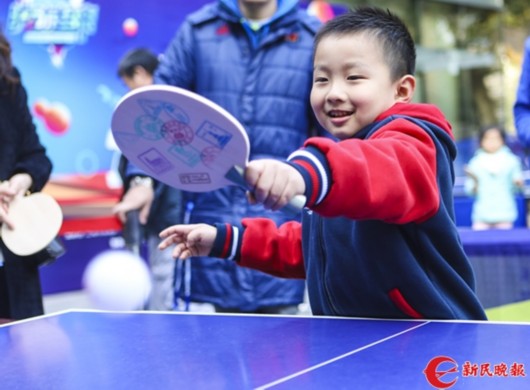 Children were playing table tennis [Photo/Xinmin Evening News]
  A table tennis event was held by the Shanghai Sports Bureau at SinanMansions on November 19. Warm and bright smiles are on each face despitethe declining outdoor temperature.
  People doodled on their shoes according to their artistic inspiration, joined the match with giant table tennis rackets, and managed to make the ball fly across the gap in the middle of the table. That afternoon, people almost completely subverted the traditional cognition about table tennis and found the other entertaining, fashionable, imaginative side of the sport.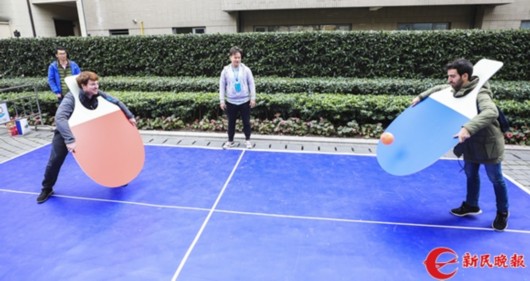 Foreign friends enjoyed the game [Photo/Xinmin Evening News]
  A man taking his daughter there said,"The graffiti and fun games have brought me a new understanding of table tennis which is charming and interesting, because I used to pay more attention to the results of the match. I intend to take part in this sport more in the future."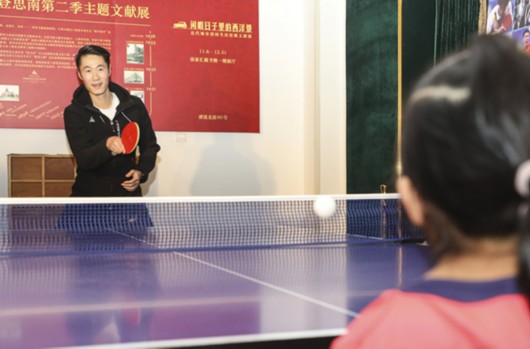 Wang Liqin and a kid [Photo/Xinmin Evening News]
  In addition, world champions including Xu Yinsheng, Cao Yanhua and Wang Liqin also came to the scene and felt pleased with the happiness created by table tennis.