On November 17, Gu Jinshan, deputy secretary-general of the Shanghai Municipal Government, met with Wolfgang Schmidt, state secretary for foreign affairs of Hamburg, Germany.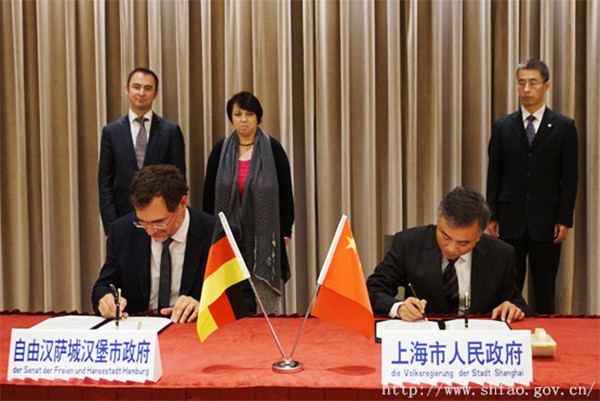 Gu Jinshan said the cooperation between Shanghai and Hamburg has entered its 31styear. As open megacities whose economies develop fast, Shanghai and Hamburg have many similarities and have carried out a series of highly productive and friendly cooperation since becoming sister cities. Shanghai-Hamburg exchange stands a model now in the relations between Shanghai and its sister cities.
Wolfgang Schmidt said Hamburg and Shanghai have conducted exchanges in all dimensions. Over the past 31 years since their twinning, Hamburg and Shanghai, aside from a frequent exchange of high-level visits, have implemented memorandums of understanding containing practical cooperation in many areas. The regular memorandum, which is signed every two years, is a good mechanism of cooperation that covers exchange in the economic, educational, scientific & technological, cultural, environmental protection and other areas. He wished to see the two sides to, under the framework of the memorandum, open and share achievements in development.
After the meeting, the two sides signed the Memorandum on Cooperation between Shanghai, the People's Republic of China, and Hamburg, the Federal Republic of Germany, 2017-2018.