爱暖儿福院 | 来自印度的成长礼物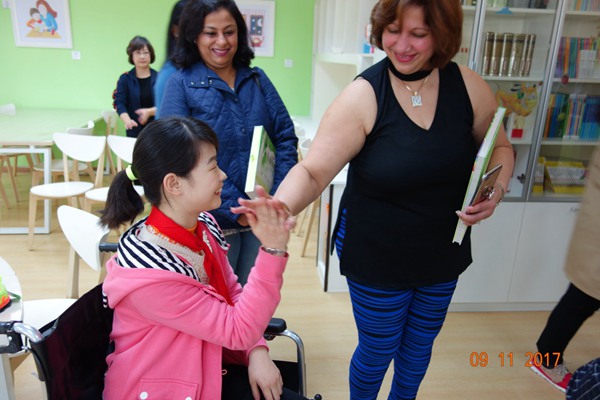 "Do you want to study English?"
"Yes."
"How about that I teach you English and you teach me Chinese?"
"Sure!"
Mingtian high-fives Indian lady Chandrika with a smile.
The 14-year-old girl, born with spinal diseases though, is optimistic, intelligent and studious. She has just undergone an operation and has recovered well. The wheelchair she's using was donated by Indian friends.
More than 10 members from the Indian Association Shanghai came to the Shanghai Children's Home on November 9, 2017, presenting sports shoes and diapers as the "Growth Gifts from India".
"你想学英语吗?"
"想。"
"那我来教你英语,你教我汉语吧!"
"好啊!"
明甜微笑着与印度友人Chandrika 女士击掌约定。
这个14岁的女孩虽天生脊柱有疾,但乐观开朗,聪颖好学。不久前她刚接受完一项手术,所坐的轮椅正是由印度友人捐赠的。据上海市儿童福利院的老师介绍,明甜术后状态良好,现在可以不用搀扶自己走上几步了。
11月9日,上海印度人协会的10多位爱心人士来到市儿福院,向孩子们送上"来自印度的成长礼物"。以上正是活动中的暖心一幕。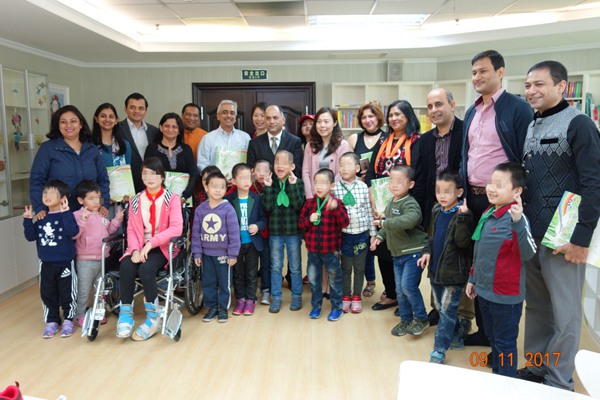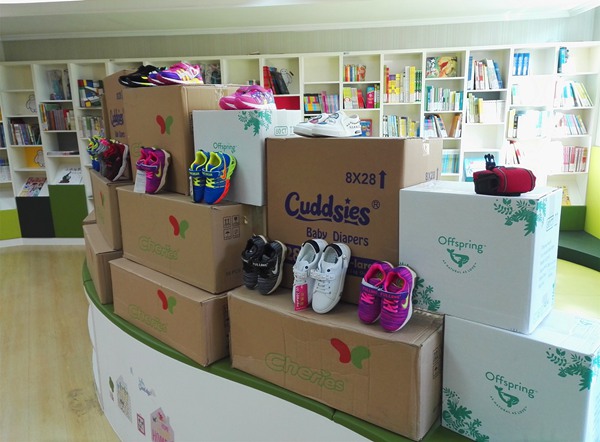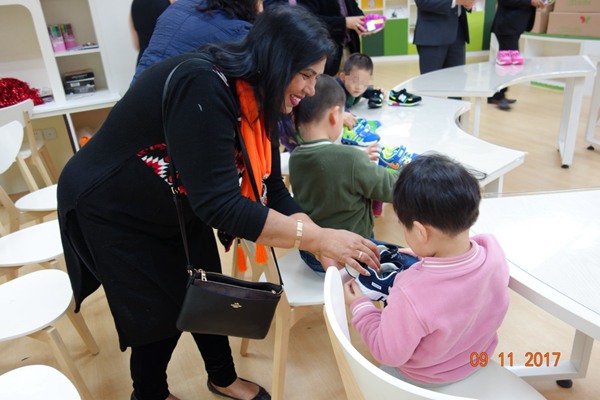 Raj Kumar Khosa, president of the association specially spoke Chinese in his speech at the welcome ceremony, which made children feel intimate.
He said that it was the first time for the association to hold an event with the city's children's home, but "the relationship will continue for years to come and the members of the association will always come forward to help the lovely children here."
"We all live in Shanghai and hope to do something to give back to the city."The president said that their association has contributed to charity events for five years. They expect to know more about the children here so as to provide more practical help in the future.
Mr. Khosa also thanked the Shanghai People's Association for Friendship with Foreign Countries (SPAFFC) for the help and support in their charity events.
欢迎仪式上,印度人协会会长卡萨雷先生特别用汉语发言,这让现场的小朋友感到很亲切。会长说,尽管这是协会首次与市儿福院举办活动,但他保证,协会将持续帮助这些可爱的孩子。他也藉此机会感谢上海市友协的帮助和支持。
"我们都生活在上海,希望做一些实事来回馈这个美好的城市",卡萨雷先生说,"印度人协会在上海参加爱心慈善活动已有五年。今天是第一次来到市儿福院,我们希望通过实地走访和持续沟通,了解孩子们更多实际需要,以便未来更好地提供帮助。"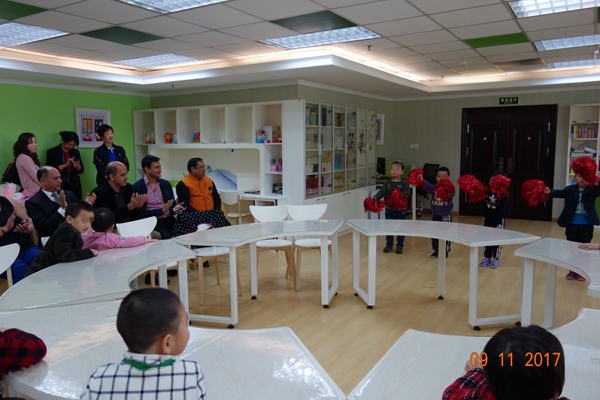 Indian friends are watching the dance performed by the kids.
印度友人观看市儿福院小朋友表演的舞蹈。
After the donation, Indian friends experienced the volunteer service of taking care of the preschool children. More Indian friends will come here as the volunteers in the future.
捐赠活动结束后,印度友人体验了照料学龄前幼儿的志愿服务。看到外国叔叔阿姨,小娃娃们一点儿不怯场,互动热闹又温馨。据了解,今后将有更多印度朋友定期来参加志愿服务。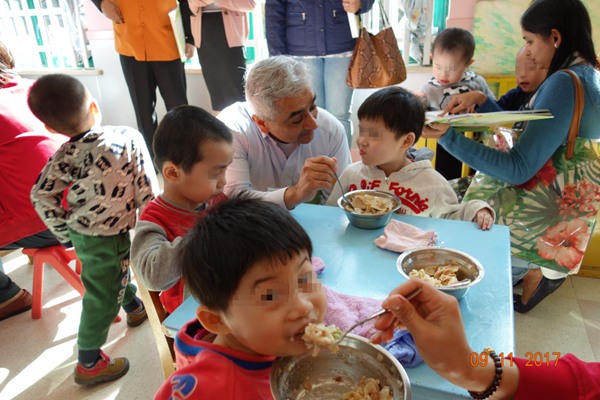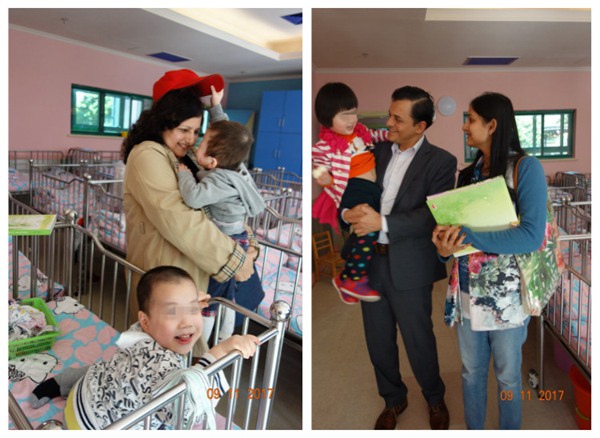 Indian friends and children
印度友人与孩子们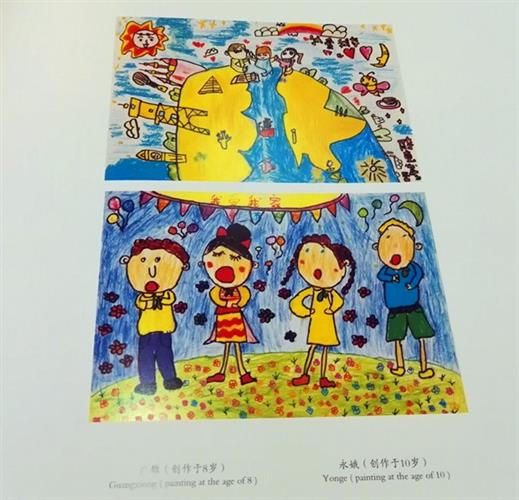 The Indian friends were presented A Collection of Children's Paintings from Shanghai Children's Home. The photo above is a page in the book.
市儿福院向印度友人赠送《上海市儿童福利院儿童美术作品选》。这是由小朋友自己创作的图画集,上图为其中一页。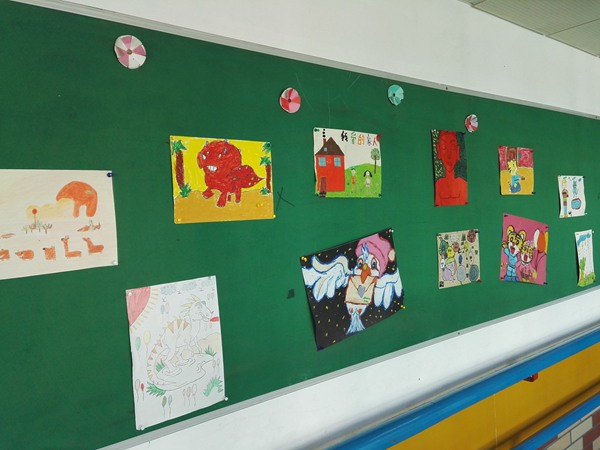 Children's paintings on the wall
市儿福院走廊墙上陈列着孩子们的绘画作品。
The Indian Association Shanghai was founded in 1997, consisting of the Indian families living and working in Shanghai. It has more than 2500 members.
In addition to organizing all kinds of cultural and social activities in Shanghai for the Indian fellows, the association actively contributes to the communities they live in and gives back to the city which offers them care and opportunities for development.
For instance, Indian friends have participated in the "Love Shanghai, the Life Gift from India" blood donation campaign for 5 years since 2013.
By the end of May 2017, a total of 556 Indian person-times donated 745 units of blood, dedicating the largest amount of blood among all the foreign countries in Shanghai.
上海印度人协会成立于1997年,是由在上海生活和工作的印度家庭组成的协会,目前约有2500多名会员。除了为印度同乡在上海组织各类文化和社会活动外,协会也积极为其所居住的社区作贡献,回馈上海给予他们发展的机会和关爱。
例如,自2013年起,协会与上海市血液中心、上海市虹口区血液管理办公室、上海市人民对外友好协会、上海市外国机构服务处发起"爱暖申城—来自印度的生命礼物"无偿献血活动。截至2017年5月,共有556人次的会员捐献热血745份,成为来自同一国家的外籍人士在沪献血数量最多的一项爱心活动。
【One unit of blood = 200ml amount of blood
一份献血量=200毫升血液
In order to protect the privacy of juveniles, the story uses an assumed name and makes fuzzy processing to parts of the photos.
为保护未成年人隐私,此文未采用真实姓名,并对部分照片作模糊处理。】
Photos by Song Chunlin, Wang Jiaye
Story by Wang Jiaye