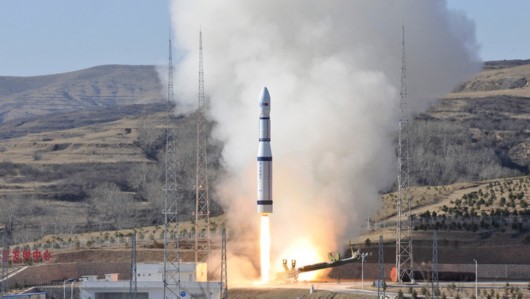 [Photo/Shanghai Observer]
  Long March-6 (Chang Zheng-6) Y2 was launched and successfully placed the Jilin-1 trio into orbit at Taiyuan Satellite Launch Center at noon on November 21. China Long March 6 Y2 was generally developed by Shanghai Academy of Spaceflight Technology.
  The Jilin-1 constellation, as China's first self-developed remote sensing satellite for commercial use, consists of several satellites which will provide data to commercial clients.
  It is the second launch of Long March-6 and the 255th launch of Long March rocket (Changzheng rocket), and meanwhile, the first commercial launch of China's new-generation liquid-propellant, small-load space launch vehicle.
  Back in 2015, the first Long March 6 rocket succeeded in placing 20 satellites into orbit, marking a new era of the application of launch vehicle.
  "As a new-generation launch vehicle, the primary consideration in the R&D process is surely the breakthrough in key technologies which transforms into profit and development after the launch. We have visited all the potential commercial aerospace customers to promote Long March-6," Zhang Weidong, commander and designer-in-chief of Long March-6 said.