Shi Guanghui, vice-mayor of Shanghai, met with U Ye Mon, vice-mayor of Mandalay, Myanmar, and the Mandalay delegation he led on November 21.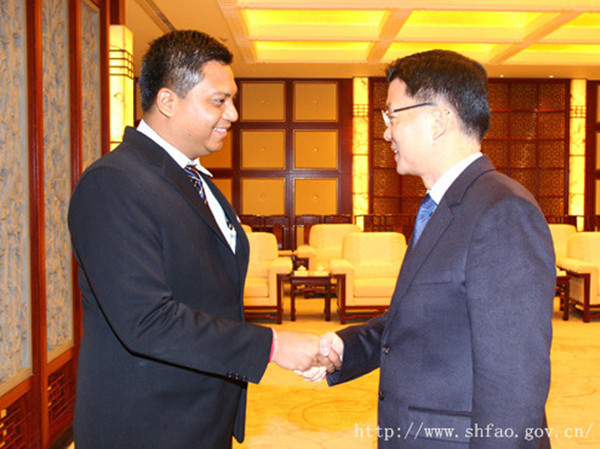 Shi Guanghui expressed warm welcome to the guests from Mandalay on their first visit to Shanghai and he called the longstanding friendship between China and Myanmar "Paukphaw"(brotherly friendship), saying he is most pleased to see that Shanghai and Myanmar have carried out dynamic cooperation in areas of education, culture and youth. Mandalay is a historical and cultural town in Myanmar, while Shanghai is China's economic center. Though there is a disparity in level of development between the two sides, Shanghai and Mandalay have the same aims in urban construction and administration. We can have cooperation and exchange in such priority areas as protection of historical architecture, ecological maintenance and treatment and cultural development in the future. He also introduced briefly Shanghai's three priorities in urban administration, that is,"security, order and cleanliness" and the four "bottom lines" in security it must guard, which inspired great interest of the visitors.
U Ye Mon said Myanmar and China have been friendly neighbors since ancient times. Mandalay is the political, economic, educational, cultural and communications center of Central Myanmar. Amidst its rapid development in recent years there have also emerged some problems in urban administration, so on this trip the delegation wished to learn from Shanghai's experience in urban administration. He also kindly extended an invitation to Vice-Mayor Shi Gunghui to visit Mandalay and warmly welcomed Shanghai enterprises to participate in the building of the China-Myanmar Economic Corridor.