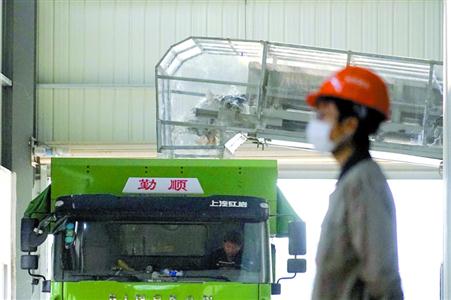 Recycled renovation waste in Xuhui [Photo/Morning News]
  There have been 18 temporary construction waste recycling processing sites in Shanghai by far. According to the government, 12 permanent ones are yet to be built in some areas including Laogang, Pudong, Jiangqiao, Jiading, and Maqiao, Minhang, the annual processing capacity of these will total 7.5 million tons.
  The wild emptying and stacking of the sharply growing illegal building demolition rubbish these two years which hit 30-40 million tons, is attributed to government's increasing efforts in demolition and the limited waste disposal capacity.
  A renovation waste recycling plant on Longwu Road in Xuhui District gets the rubbish with complicated composition in, such as plastic knitting bags, bricks and toilets. When these things come out from different exits, they begin a new life, they can be made into plastic products like trash bags, trash cans and new bricks.
  Head of the plant said the recycling equipment have handled 800-1,000 tons of decoration rubbish and is able to complete up to 3,000 tons every day.