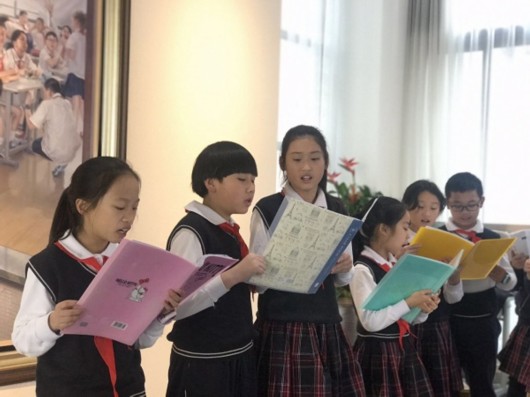 Students of different ages take classes together. [Photo by SDIES]
It might be rare to see students of different ages and grades take classes together. However, at Shanghai Daning International Elementary School (SDIES), that is very common, since it has been piloting mixed-age education for almost one year.

In a fine arts class, students of different grades sit in the same classroom to learn painting. In the school's a cappella choir, a little girl sings with her innocent voice in harmony with a senior male student's beatboxing. During the class break, some senior students are seen telling stories to the juniors in the school's rooftop garden… All these are thanks to the pilot program of mixed-age education in the school.

"In reality, children meet people of different ages. Mixed-age education can improve the students' ability to adjust themselves in a team," explained Xu Xiaowei, headteacher of SDIES.

The educational method is more suitable for art and music education, said Xu. In this way, students are classified according to their learning basis and backgrounds, rather than grades or ages, so they can receive the best education possible.
For instance, the a cappella choir of the school is composed of members of different ages, ranging from Grade 2 to Grade 5 students. According to Ding Jiali, instructor of the choir, engaged in multi-age education, students of different ages can better play to their strengths. At the same time, they can also help and inspire each other.