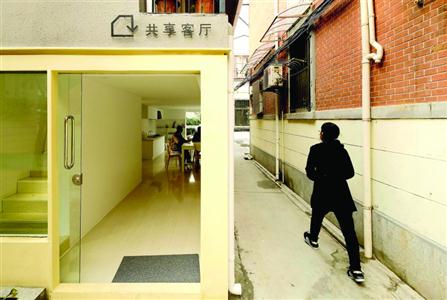 Shared living room with glass curtain wall [Photo/Xinmin Evening News]
  Mr. Huang, 62 years old, living in a residential area on East Nanjing Road in Huangpu District was troubled by his house which is too small for friends and relatives and other events. Many old neighbors have the same problem with him and finally, saw promise this month.
  A new shared living room and a shared study room have been built in the neighborhood which residents can apply to use.
  The two-story shared living room on East Beijing Road is a renovated activity room of Guizhou Neighborhood Committee, covering nearly 30 square meters.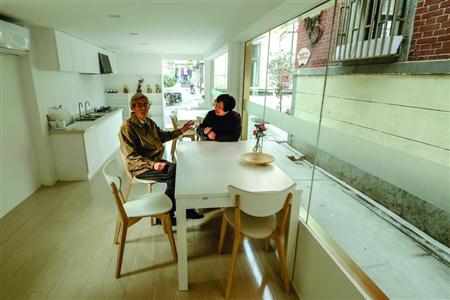 Kitchen inside with tables and chairs [Photo/Xinmin Evening News]
  Now, with three walls of glass, it is always bright there and the lights can shine in the alley outside. There are two 1.4-meter-long stretchable tables and eight armchairs which can be useful at the home banquet or a tea party and more chairs can be got upstairs while a corridor balcony is on the second floor.It also comes with a kitchen.
  Located in an attic nearby, the 15-square-meter shared study holds three huge shelves filled with 500 books of various kinds and some periodicals. You can see a grid covered with green plants under the eaves.
  The shared rooms have met old residents' demands of beautiful new lives.