Foreigners in Jing'an丨Mr. Lutz Frankholz from Germany: Shanghai makes foreign businesses easier
【Starting from the year of 2017, the Shanghai Municipal Foreign Affairs Office, together with district governments, has started hosting the "Internationalized Shanghai Promotion Series" to demonstrate the achievements and future planning of each district and enhance the exchanges and cooperation between Shanghai and the world, so as to helpShanghai become a global city of excellence. After the first event series was held in Yangpu inthe first half year, the second event series, with the theme of "Internationalized Shanghai: The New Development and Attraction of the New Jing'an," took place in Jing'an District—the heart of Shanghai. Eastday.cominterviewed some expats living and working in Jing'an, who talked about what they think of the new district, especially after its merger with Zhabei District.】
【2017年起,上海市人民政府外事办公室携手各区政府,举行"国际化的上海"系列活动,展示各区发展建设成就和规划,促进对外交流合作,推动上海追求卓越的全球城市进程。第一场系列活动已于上半年在杨浦举行,11月7日,第二场系列活动以"国际化的上海:发展新亮点魅力新静安"为主题,登陆上海的心脏地——静安。为此,东方网记者采访了多位生活和工作在静安的外籍友人,从他们眼中发现静安的新魅力。】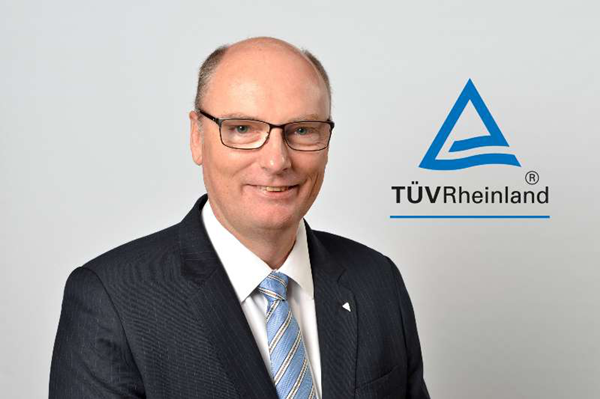 图片说明:莱茵技术(上海)公司执行董事陆勋海先生
Mr. Lutz Frankholz, managing director of TÜV Rheinland (Shanghai) Co., Ltd
Mr. Lutz Frankholz,a German and the managing director of TÜV Rheinland (Shanghai) Co., Ltd. has left Germany for more than two decades. He first worked in Hong Kong for 16 years and then came to mainland China.
来自德国的陆勋海是莱茵技术(上海)公司的执行董事,离开德国20多年的他先是在香港待了16年,随后又来到中国内地。
Founded in 1898, TÜV Rheinland Group is an internationally leading technology service provider with 500 offices in 69 countries worldwide and branches in 22 cities in mainland China.
成立于1898年的德国莱茵TUV集团是国际上领先的技术服务供应商,在全球69个国家设有500家分支机构,在中国22个城市都遍布着分支机构。
When talking about setting up a subsidiary in Shanghai more than 20 years ago, Mr. Lutz Frankholz admitted that was a "big adventure", he said, because it was a new geographical, new culture, new business opportunities and a new journey.
说起20多年前在上海设立子公司,陆勋海坦言这是一个"大胆的创举",他连用了四个"全新"来形容这个创举,"扎根上海意味着全新的地域,全新的文化,全新的商机和全新的征程"。
"Shanghai is a national and global trade hub, and that is the reason TÜV Rheinland, a TIC company choose Shanghai. For reasons closer to customers and manufacturers, we chose New Jing'an, the original Zhabei District, because it is close to railway hub. Compared with other cities, Shanghai has advanced traffic and customers in neighboring cities can come to Shanghai easily by high-speed rail. For local manufacturers, it is convenient for them to certificate their products which are to get access to the international market."
"上海是全国乃至全球的经济贸易枢纽,我们选择了上海。出于离客户、制造商更近的想法,我们更选择了'新静安',也就是原来的闸北,因为这里靠近铁路枢纽。相比于其他城市,上海的交通发达,周边城市的客户坐高铁就能来上海,由此方便了本地的制造商对投放到国际市场的产品做质量认证。"
Vibrant, cosmopolitan shopping malls, dotted bars, entertainment venues, and restaurants serving world-class cuisine... These are the images of Shanghai left to Mr. Lutz Frankholz, but the most impressive is that the city's astounding rate of development. "If you live in Shanghai, you may not be aware of that. But if you come here once a year or once every two years, you will feel the rapid development. Really amazing."
充满活力、国际化的大购物商场、星罗棋布的酒吧、娱乐场所,提供全世界美食的餐厅....这些是上海留给陆勋海的印象,然而最让他印象深刻的还是这座城市让人震惊的发展速度,"如果你住在上海,你可能意识不到,如果每年一次或者每两年一次来这里,你就会感受到上海的飞速发展,这真的很惊人。"
"Both the air quality and the transport infrastructure have seen a significant improvement over the past two years, which we can all see." he added.
他又补充说道,"现代都市都在为环保事业努力。城市污染是每一个国家面临的问题。上海过去几年空气质量也是一个问题。不过,无论是空气质量、交通设施,过去两年里这里都取得了很明显的改善。这是我们都能看到的。"
To be near an international school where his sons are studying, Mr. Lutz Frankholz had to sacrifice himself and live in the suburbs. However, he said he likes going out and getting close to nature. No wonder Mr. Lutz Frankholz always spares time for his two children in sports and school activities.
问及是否住在静安区,陆勋海笑了,他表示因为孩子在市郊的国际学校上学的缘故,他不得不牺牲自己,住到离学校只有十分钟路程的郊区。不过,他说自己很喜欢外出,亲近自然。也难怪闲暇之余他总是把时间留给自己的两个孩子,陪伴他们参加体育运动以及学校里的活动。
"I like livingin Shanghai.It is a melting pot, and people of different languages, colors, cultures are gathered here to live together. Government has many policies to make foreigners better adapttothe life hereand to make it easier for foreign businesses."
"我喜欢住在上海,这里是一个大熔炉,不同语言、肤色、文化的人们都聚集在这里,生活在一起。政府有很多政策措施让外国人更好地适应这里的生活,让外国人在这里做生意更容易。"
He explained that when the company was established in Shanghai, they got the support from the government of Jing'an District (formerly Zhabei District). The office building was built by the district government in accordance with the design intention of the company. In addition, Jing'an District established the "State Inspection Testing and Certification of Public Service Platform Demonstration Area" which provides a good environment for the development of TIC industry, and further promote the development of testing, inspection and certification industry cluster.
他很耐心地解释说,当年公司被引进到上海的时候得到了静安区(原闸北区)政府的大力支持,办公楼按照公司的发展需要投入建设并使用,除此之外,静安区还建立"国家检验检测认证公共服务平台示范区",为检验认证行业提供了良好的发展环境,进一步推动检验检测认证产业集聚发展。
"Our company is located in Jing'an District SMV Park. Although it is a little far away from the city center such as West Nanjing Road, the surrounding environment can still meet the leisure needs of employees. We often have lunch and relax in the park. Sharing bicycles also solve the 'last mile'that the subway could not reach, facilitating the commuting of employees."
"我们公司在静安区多媒体产业园,虽然离南京西路这样真正的市中心还有点距离,但周边的环境也依然能够满足员工的休闲需要,我们经常在园区里午餐,休闲。遍地停靠的ofo也解决了地铁无法到达的'最后一公里',方便了员工的通勤。"
In our conversation, Mr. Lutz Frankholz repeatedly mentioned the term "talent," and he said there is a big advantage in setting up the company in Shanghai-- "to recruit suitable trained personnel who understand foreign cultures, which is important for many foreign companies."
在我们的交谈中,陆勋海多次提到"人才"一词,他介绍说自己的公司是一个非常需要人才的公司,因此地址设立在上海有个很大的优势就是"能招聘到合适的经过训练的人才,他们理解外国文化,这对于许多外企来说很重要"。
"People here are straightforward, which is very important for driving business forward." The German, frankly, said.
"这里的人很直接,这对于推动商业进步起到很重要的作用。"这个看起来一丝不苟的德国人一脸坦诚的说到。
Mr. Lutz Frankholz, who has long been immersed in Asian culture, has easily adapted to the life here. Unlike traditional Germans who worry about data security, he said mobile payments have become an integral part of his everyday life, "and there are QR codes everywhere on the table, and personally, I think that mobile payments do more good than harm."
早已融入到亚洲文化的陆勋海来到上海,如鱼得水般适应这里的生活。与传统的德国人对数据安全的担忧不同,他表示,手机支付已经成为日常生活不可缺少的一部分,"餐桌上到处都是二维码,就我个人来说,我觉得手机支付利大于弊。"
"My family and I like to live here. Here is convenient and safe. We do not have to worry about being stolen, robbed, fought or kidnapped. I think it is a very important factor for foreigners to choose to live here."
"我和我的家人都喜欢这里,这里方便又安全,我们不用担心钱包或者手机被偷,更不用担心抢劫、打架、绑架,我觉得这是外国人选择在这里生活非常重要的因素。"