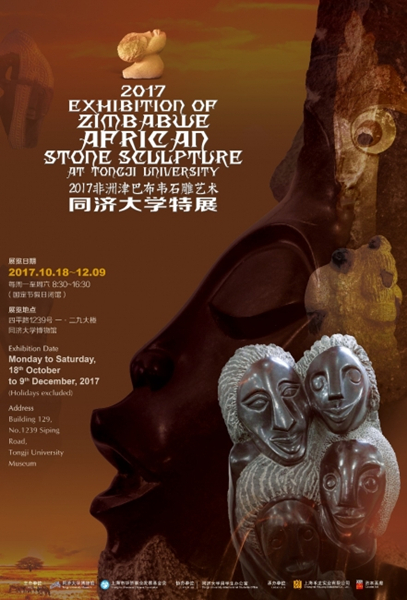 Poster of the exhibition [Photo/Tongji News]
With its clean lines, exaggerated shapes, simple ways of expression and exotic artistic styles, African sculpture is a unique and impressive form of art. What's more, it has different features in different countries and regions in Africa. To help university students know more about African sculpture, an exhibition of Zimbabwean stone sculpture is being held these days at Tongji University.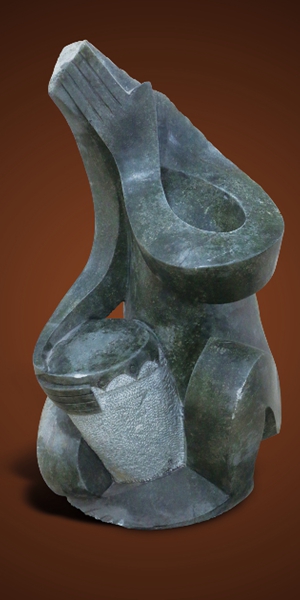 A piece of stone sculpture named "The African Thinker" exhibited at the Tongji University Museum [Photo provided by exhibition curator]
On October 20, an opening ceremony was held at the museum to kick off the special exhibition. The stone sculptures exhibited at the university museum are part of the collections of Zhao Baopei, an influential leader of overseas Chinese in South Africa. Apart from being an art collector, Zhao is also an expert on African sculpture.

In Africa, it is very common to discover peculiar-looking stones and stone sculpture is an ancient tradition on the continent. Sculptures have always been regarded by the local people as a way of expression. Back to the 15th century, people in the Munhumutapa Empire in present-day Zimbabwe created remarkable stone sculptures. To some extent, stone sculptures are an embodiment of the civilization of Africa.

African stone sculpture dazzles the world with its original insight into life and distinctive visual effects. Prestigious artists, including Picasso and Andre Derain, were fond of the ancient art.

The exhibition is ongoing through December 9.