A cultural relics transmission project of "Internet plus Chinese culture" was conducted in Shanghai Cosco Experimental School on November 31.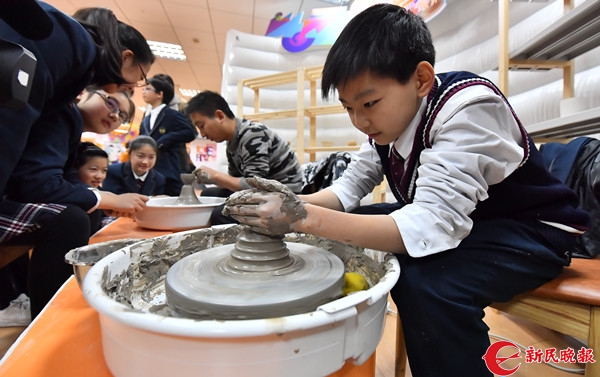 Students from Shanghai Cosco Experimental School experience ceramic workmanship.[Photo/ newsxmwb.xinmin.cn]

At the site, students marvel at the ceramic production process showcased by artists from intangible heritage inheritor studio. Moreover, ceramic 3D printing, ceramic online courses have also aroused students' interest.
Through the cooperation between education and museum and with the medium of the internet, the activity aims to guide schools and social education institutions to explore the cultural value of relics.
Among the 12 "Internet plus Chinese culture" programs, the ceramic course has developed well. According to Huang Jizhong, Dean of the Basic Science Research Institute of Cultural Heritage Protection of Shanghai University, the online MOOC course is to be given by professional teachers from universities and experts from Jingdezhen, a city synonymous with ceramics in China.

Through combining the ceramic knowledge and relics appreciation method with offline practice courses, more students could get involved to experience the traditional Chinese culture.