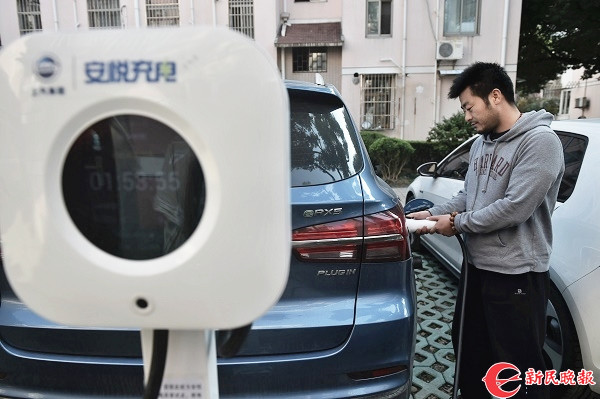 Sharing of private charging station saves resources.[Photo/Xinmin Evening News]
  About ten companies poured into the charging station industry after the State Council encouraging the sharing of private charging stations in the document to meet demands two years ago. By the end of October, new-energy vehicles in Shanghai have achieved 132,468 while public charging stations have reached 23,105, dedicated ones 20,005, private ones 66,655.
  Corporations like Anyo Charging, Star Charge and "echargenet.com" have started charging station sharing. Mr. Meng joined Anyo Charging to become a charging station sharer two months ago.
  Mr. Meng, born in the 1970s and living in Beicai, Pudong, bought a gas-electric hybrid car earlier this year, which is environmentally friendly and convenient for registration, and installed the independent meter and charging station for free.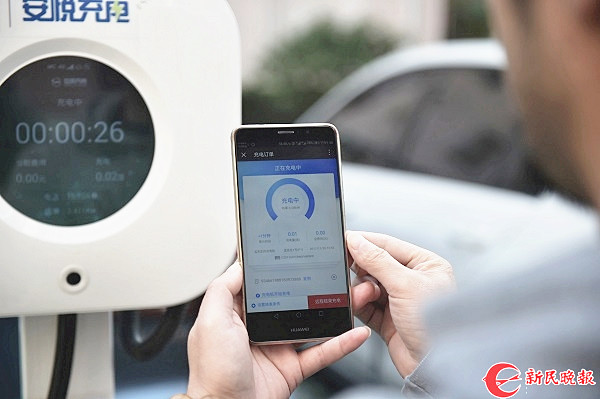 Charging station real-time information on mobile phone [Photo/Xinmin Evening News]
  His charging station was upgraded then, added with Internet signal which covers the parking and accurate push on ads. Besides, car owners can check the real-time information of the station on WeChat (and an application to come out in December).