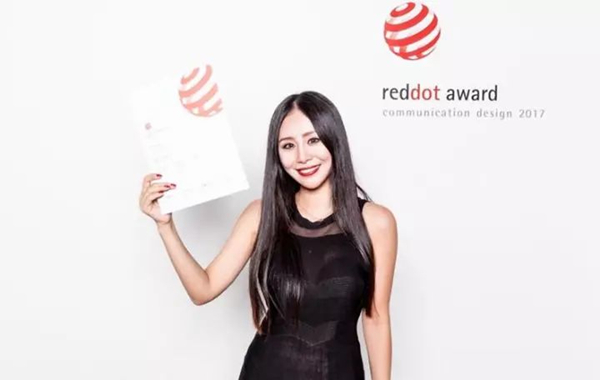 Jiang Yi poses for a photo at the awarding ceremony. [Photo/WeChat Account: SIVA]
Winning a Red Dot Award might be the dream of all designers. Recently, this much-longed-for award showed its appreciation to a young designer in Shanghai. Jiang Yi, a teacher of fiber art design at Shanghai Institute of Visual Art (SIVA), won the 2017 Red Dot Award: Communication Design.

With their submitted work "Rivers," Jiang Yi and her team stood out among 8051 entries from over 50 countries and regions. "Rivers" is a brand design for a coatings company based in Zhaoqing, China. Responsible for art direction in the team, Jiang attended the awarding ceremony which was held at the Konzerthaus Berlin in Germany.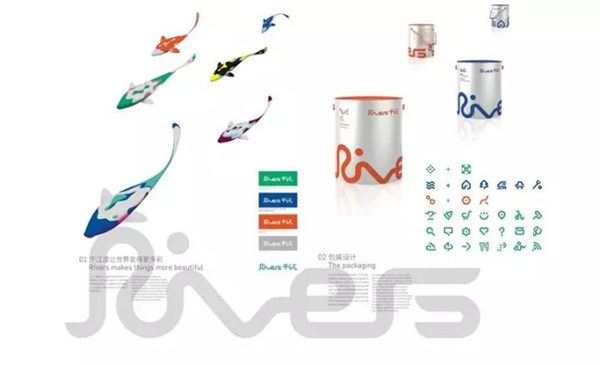 The winning work designed by Jiang Yi and her team [Photo/WeChat Account: SIVA]
According to Jiang, the brand design has a simple and clean look and it is inspired by rivers, which are beautiful and full of powerful meanings like "river is life." The properties of the coatings are distinguished from each other by the color of the packaging, and the product information is represented by a number of icons, which can be found at a visible position on the packaging. The result is a remarkable name reflecting the high qualities of the company.
The Red Dot Award: Communication Design is one of the three disciplines of the Red Dot Award. The award's distinction, the Red Dot, is established internationally as one of the most sought-after quality marks for good design. According to SIVA, four Red Dot Awards have been awarded to its teachers and students since its founding.