The Consulate General of the United Arab Emirates (UAE) in Shanghai held a reception in celebration of the 46thanniversary of founding of the country on November 29, and Xue Chao, vice-chairman of the Standing Committee of the Shanghai Municipal People's Congress, and other Shanghai officials attended the event.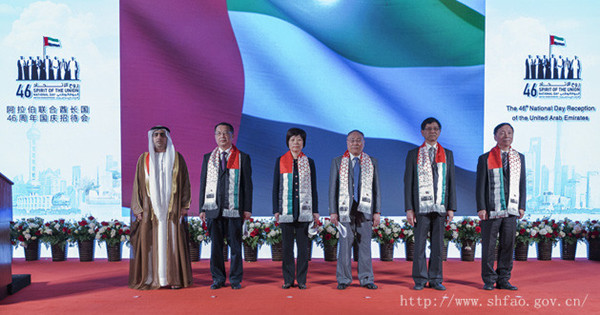 In a meeting with the UAE consul general and the representatives of the UAE businesses in Shanghai, Xue Chao expressed appreciation to the UAE Consulate General for the energetic efforts it has made to promote the exchange and cooperation between Shanghai and the UAE.
Rashed Alqemzi, consul general of the UAE, said the UAE, though a young country, has a longstanding friendship with China, which can be traced back to the age of the ancient Silk Road. The two countries have had brisk cooperation and exchange, with China becoming the UAE's largest trade partner since 2015. The UAE will host the World Expo in 2020 and China's experience as the host of the World Expo 2010 is worth its learning. He also hoped, through the efforts of both sides, the friendly relationship between Shanghai and Dubai, the two sister cities, can be extended to Abu Dhabi.