A collaborative research program co-sponsored by the Future Cities Council (FCC) of Tishman Speyer and the Shanghai Academy of Development and Reform (SHADR) was announced on December 4. The IBLAC Shanghai Future City Development Collaborative Research Programis the first collaboration between these two organizations.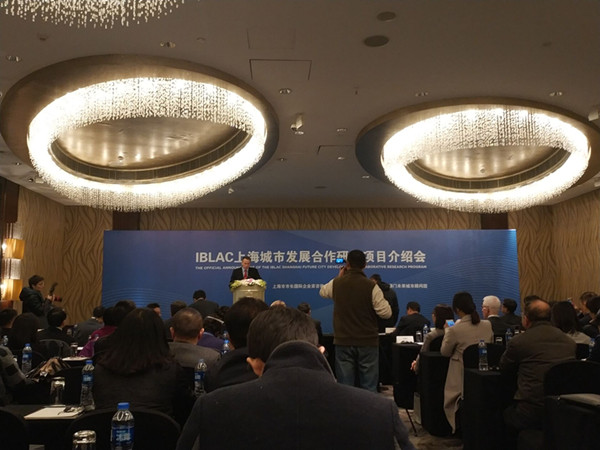 The program, which grew out of the 29th International Business Advisory Council (IBLAC), aims to contribute actionable insights on the topic of "Attracting and Retaining International Talent in Shanghai" and aid the future development of Shanghai.
IBLAC is a council of well-known international business leaders who meet yearly to contribute advice and recommendations on the development of Shanghai. The topic for the research program was raised at this year's IBLAC conference by Rob Speyer, president and CEO of Tishman Speyer and founder of the Future Cities Council, as a way for Shanghai to achieve its vision as a city of global excellence.
"It is truly a wonderful opportunity and a great honor for the FCC and Tishman Speyer to collaborate with SHADR, which is instrumental to Shanghai's development as a leading international city", said Rob Speyer."As a member of IBLAC, Tishman Speyer is firmly committed to contributing to Shanghai's development and we eagerly look forward to the 30th IBLAC meeting next year and to the results of this collaborative research program."
The Dean of SHADR also provided his comments about the event,"With the Future City Development Collaborative Research Program, SHADR is honored to be collaborating with the FCC, which consists of some of the world's leading experts in city development. Together, we hope to extract insights on attracting and retaining international talent in order to jointly contribute actionable advice and recommendations for the benefit of Shanghai."
Tishman Speyer and the Future Cities Council, with the assistance of SHADR, have formed three teams that each consists of both global and local city development experts from prestigious institutions such as Harvard, MIT, Tsinghua University, NYU, Fudan University, East China Normal University, and Tongji University, who will examine the program's research focus in three subject areas: Economics, Sociology, Design and Planning and Big Data.