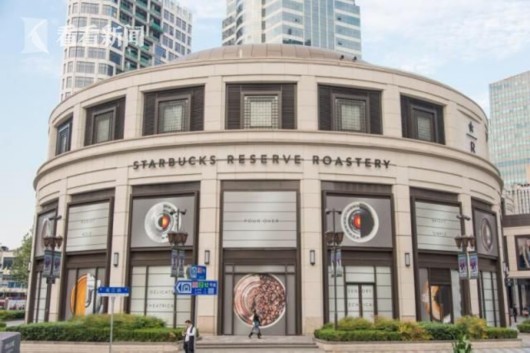 The Reserve Roastery is located at West Nanjing Road. [Photo/Kankanews.com]
You may have been to many Starbucks stores, but how about the Starbucks Reserve Roastery? Recently, the American coffee giant has opened a Reserve Roastery at in Shanghai. It is Starbucks's second Reserve Roastery ever and the first of its kind in Asia.

Covering an area of 2,700 square meters, the Reserve Roastery, located in HKRI Taikoo Hui, a busy commercial complex in Jing'an District, is a fully immersive coffee wonderland. As a new installment of Starbucks's upscale Roastery concept that first opened in Seattle in 2014, it offers people a fantastic retail experience. Customers can explore the roasting and brewing methods, interact with coffee masters and enjoy rare premium coffee from all over the world.

What's more, it is home to three "coffee experience bars," one of which is 88 feet long, making it the longest Starbucks coffee bar in the world.

Another highlight is the ceiling of the Roastery. Made of 10,000 handmade wooden hexagon-shaped tiles, it is inspired by the locking of an espresso shot on an espresso machine, according to Starbucks.
Aside from beverages, Italian baker Rocco Princi's Princi Bakery is another element to the Reserve Roastery, where over 30 experienced Chinese bakers and cooks will produce 80 savory baked goods and casual food offers handmade onsite.