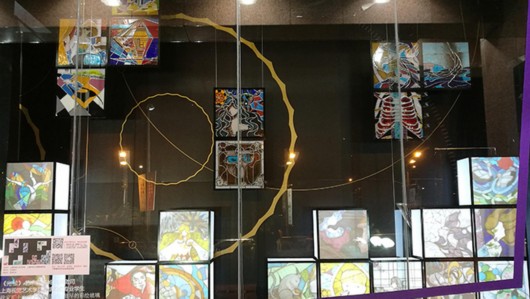 [Photo/ Shanghai Observer]
  Speaking of Xujiahui, it evokes the Gothic Catholic Church, romantic plane trees with fluttering leaves on quiet paths, Shanghai Film Studio, etc. A window show called "Artistic Narration: A Century of Xujiahui" recently took place at multiple malls including Huijin Department Store, Orient Shopping Center, Pacific Department Store and Buynow to unfold the unique cultural charm of Xujiahui.
  The show was hosted by XuhuiDistrictCulturalBureau and Xuhui District Commission of Commerce, organized by Life Week, inviting several artists and cross-border designers for artistic creation. Through installation, design products, sound and light effect, painting, photography, video and other means, the window show interpreted "A century of Xujiahui".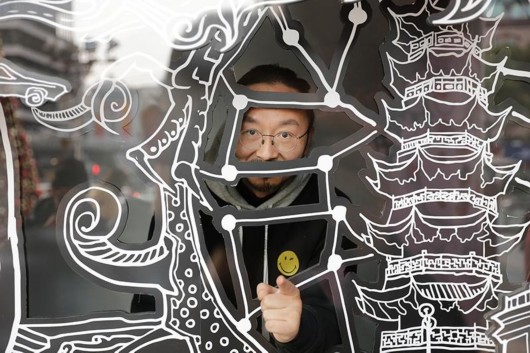 Zhu Jingyi and his artwork [Photo/ Shanghai Observer]
  Famous cross-media artist Zhu Jingyi outlined the contours of the century-old buildings like St. Ignatius Cathedral (also known as theXujiahui Cathedral), Wukang Mansion, Shanghai Jiao Tong University's old library with paper cut. Gu Benchi created a shining work with countless silk threads, symbolizing the spirit of convergence brought by Xu Guangqi.
  The twin designers Zhou Chuan and Zhou Qi produced the light boxes based on the Xujiahui Observatory and Shanghai's record industry. Qin Ling brought his stained-glass work, paying tribute to T'ou-Sè-Wè, which is the earliest birthplace of stain glass. Also, AR combined art and technology there calling visitors to their senses.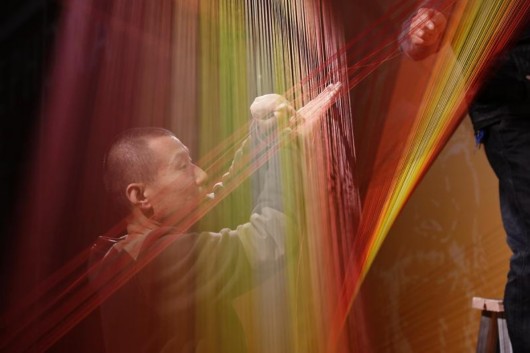 [Photo/ Shanghai Observer]
  Fu Xiao, deputy director of XuhuiDistrictCulturalBureau said shopping mall has offered the possibility for art re-creation, which is a big surprise.