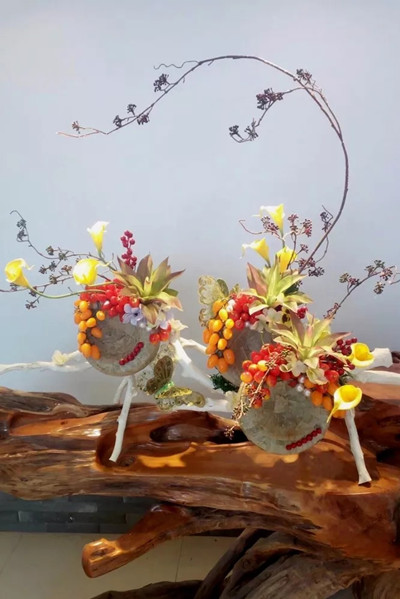 Florists created lifelike compositions with vegetables and fruits.[Photo/ Bendibao.com]
  The Fifth Riverside Fruit & Vegetable Flower Arrangement Art Exhibition is opened at Shanghai Riverside Forest Park since last weekend, ending on December 17.
  The flower arrangement adopting common fruit and vegetable stemmed from the Tang Dynasty, flourished in the Qing Dynasty, which is lusher and more colorful, glamorous, verdant and pleasing with various forms, compared with flowers.
  Common fruits and vegetables like potatoes, cowpea, radish and banana were combined, glued, bandaged, linked and made into beautiful floral works at the exhibition. The cylinder beans and garlic seedlings became "curtains", pitaya and longan composed of a "goldfish", potatoes looked like "mosaics" with purple onions and red chilies.
  Citizens can not only enjoy the flower arrangements but also have a try. The park will recruit 20 families to take part in a distinctive fruit and vegetable flower arrangement experience event for free under the guidance of the florists and the participants are allowed to bring back one of their own creations.