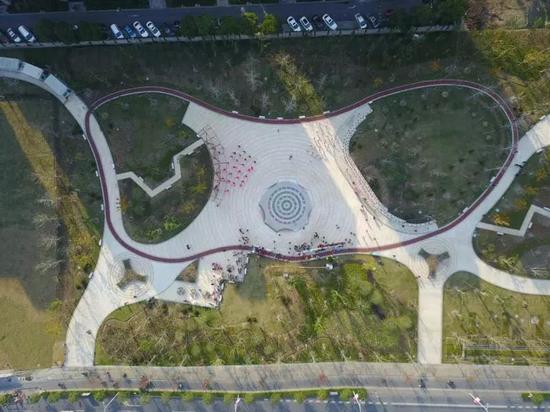 An aerial photo of the green space [Photo/Pudong News]
Residents in Chuasha Town, Pudong New Area, can now enjoy themselves in a large public green space, which just opened to the public this Tuesday.

Taking up a land area of 17,973 square meters, the green space is covered by 13,000 square meters of vegetation. The rest of the land, covering 4,973 square meters, has been paved for a public square and a parking lot.

The greenbelt near the entrance of the space combines micro-scale landform and natural landscape. The paths are line with flower terraces. Walking further, people can see a wall with a wavy pattern which creates a unique harmony between green and water. In the evening, lights will illuminate the landscape accompanied by the sound of water, achieving an elegant balance between motion and stillness.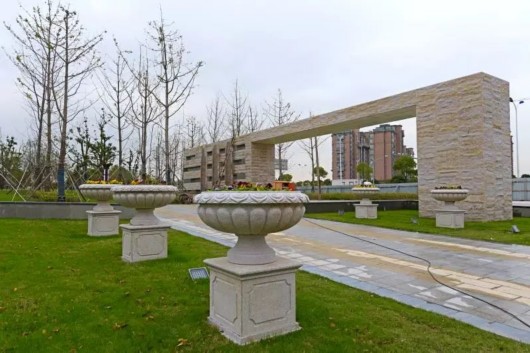 The paths in the green space are line with flower terraces. [Photo/Pudong News]
In the middle of the space there is a dry-deck fountain, also the first of its kind in Chuansha Town. Spectacular musical fountain shows can be played all day long, offering visitors a stunning visual and acoustic treat.
However, few people are aware that the land was an abandoned lot next to a temporary car park and a garbage room until April, 2017. Geographically, the land is a hidden treasure and is sure to gain immense profits from commercial development. Nevertheless, the local government cares more about the needs of the public. Only if the best space is utilized for the people, can its value be fully realized.