中文版附文末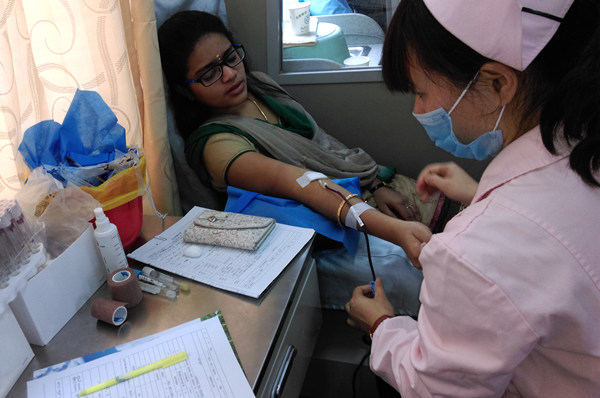 Sindhujha is donating blood.
We got to know Sindhujha Krishnan thanks to a charity event which has been held for five years - "Love Shanghai, the Life Gift from India" blood donation campaign. Since 2013, a total of 556 Indian person-times have donated 745 units of blood, dedicating the largest amount of blood among all the foreign countries in Shanghai. (One unit of blood = 200ml amount of blood)
Sindhujha is one of them. She is also a medical student at Yangzhou University, Jiangsu Province. The warm-hearted girl with big eyes has been in China for five years and will be graduating to be a doctor. Sindhujha came to Shanghai for the blood donation event with her fellows on May 28, 2017. Before that, she also donated blood in Yangzhou.
Here's a group of Q&A about her life in China, through which you will know more about this lovely girl!
Sindhujha is singing at a New Year party organized by her university. She is good at singing English songs.
①Q: Could you please talk about your feelings of the blood donation event?
A: I took part twice in the Indian friends blood donation campaign. I'm honored and happy to donate blood and save lives. Such campaign must happen regularly to save more lives.
②Q: Why did you choose to study in China? What was your first impression of here? What do you feel have been the biggest changes or developments over the past years?
A: I had always dreamed of studying abroad ever since I was born. My dad told me China is safe for girls, so I chose China.
People here are very kind and caring. They are really ready to help me when I'm in need. I had language as my biggest barrier. It's really tough to differentiate the pronunciation of Chinese words. I can understand Chinese when it's spoken slowly.
The biggest change I've seen in myself is I've learned to be "independent" and I suggest every single girl must learn to be independent in her life to move the development of the country a step ahead.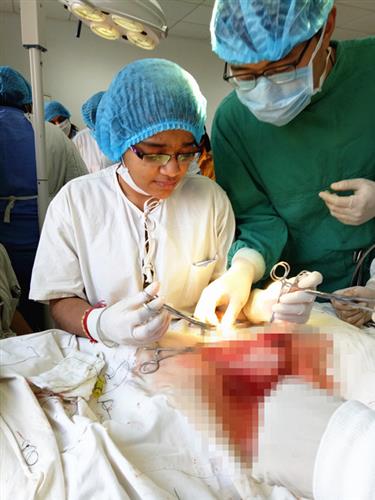 Sindhujha is at a surgery practice course.
③Q: What are the most unforgettable experiences you have had in China?
A: I had to undergo a surgery in my foot all of a sudden while in hospital because of my health when My friends went to the dormitory for making me some lunch. I was all alone when the doctor told me that he would operate on me that moment. I messaged my Chinese friend Sister Wang because I was much tensed and in no time she came to see me along with her daughter. She was so kind that she brought some fruits. She comforted me until my friends came back. I can never forget her love and care. I would like to take this opportunity to thank her. Thank you so much, Sister Wang.
④What do you like in China?
A: I love Chinese food especially Sichuan cuisine. I also liked the timing and punctuality of Chinese people. Along with it I still wonder how can people follow traffic rules so strictly even when there is no traffic police at 2 a.m. also.
⑤Q: What are your impressions of Shanghai?
A: I love Shanghai very much because of its architecture. It's really amazing. Beautiful gardens like Yu Garden, the Bund, the Oriental Pearl Tower and last but not the least the Disney Land, I love them all.
Sindhujha (L) came to Shanghai for the blood donation event with her fellows on May 28, 2017.
⑥Q: Will you work in China after your graduation? Could you please talk about your future plans?
A: Yes. I would love to work here in China actually because this is the birthplace of my medical knowledge. I want to become a psychiatrist and help old people because they are the ones who are left alone most of the time.
I want to spend more time with patients than at home...might sound crazy but I'm a type 1 diabetic patient since when I was 13 years. People who helped me most of the time were doctors who gave me treatment. They set themselves as an example for me and I think it's now my time to do it again.
⑦Q: What are your expectations for the future development of China from your personal point of view?
A: I would tell two important things for the development of any country: 1.No pollution, 2.Go green. These two things can make any country a better place for you and for me.
(Photos were provided by Sindhujha Krishnan)