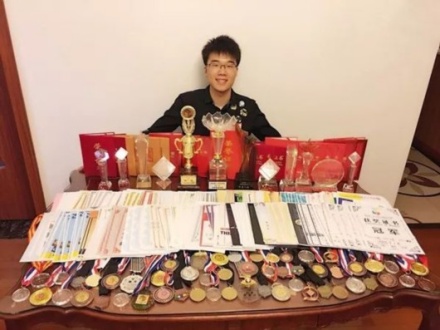 Wang Yinghao is a multiple gold medalist. [Photo/Xinmin.cn]
Early this month, a 24-year-old young man from Shanghai made headlines after taking part in a nationwide TV show called "Challenge the Impossible."

The young man called Wang Yinghao and his team succeeded in beating five world champions on the show which was aired on CCTV-1 on December 3. His competitors included Feliks Zemdegs, a legend in the Rubik's Cube world.
As a winner of 78 gold medals, Wang is an all-around Rubik's Cube champion. Having breaking records sixteen times in China and Asia, Wang is the holder of Asian record in Mini Cube (also known as 2x2x2 Rubik's Cube). He became interested in the game eight years ago. "In April 2009, I saw my classmates playing a Rubik's Cube. I bought one out of curiosity," said Wang. "It's been eight and a half years since I first played the game. I still remember the moment when I solved a basic 3x3x3 cube."
Wang can solve a 3x3x3 Rubik's cube within 13.81 seconds with only one hand. However, he is most adept at solving the Mini Cube puzzle. He can finish it within three seconds.