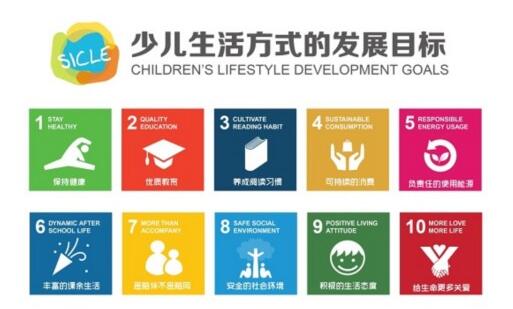 Ten targets of children's lifestyle development goals put forward by SICLE [Photo/Eastday.com]
What is the ideal lifestyle for today's children? With an aim to promote the ten targets of children's lifestyle development goals, the 2018 Shanghai International Children's Lifestyle Expo (SICLE) is to take place in Shanghai on January 26 to 28.

To be held at the Shanghai Exhibition Center, the exposition is committed to improving children's and their family's lifestyle and creating a children's lifestyle platform in the new era through continuous innovation and exploration.

A healthy lifestyle is of great significance for a kid. Therefore, SICLE has put forth ten targets of children's lifestyle development goals. They are: 1. Stay healthy; 2. Quality education; 3. Cultivate reading habit; 4. Sustainable consumption; 5. Responsible energy usage; 6. Dynamic after-school life; 7. More than accompany; 8. Safety social environment; 9. Positive living attitude; 10. More love, more life.

Focusing on health, education and culture, the event will center on 16 different themes to meet the various needs of different families. At the exposition, children visitors can get a close look at intangible culture heritage like lacquer art and paper cut, play fun sports such as American football and rock climbing, interact with robots, AI and VR machines, and listen to aeronautics lectures, to name a few.
The 2018 SICLE, hosted by China Welfare Institute, the People's Government of Jing'an District and Shanghai Exhibition Center Group Co., Ltd., will gather 120 exhibitors from both China and abroad in an exhibition area of 12,000 square meters.