The rendering of the public reading area in Dayin Bookmall in Wujiaochang, Yangpu District, Shanghai [Photo/Dayin Bookmall]
  Brick-and-mortar bookstores today are breaking the game with the popular online book sales in unique ways."Sinan Book", a pop-up store, ended the 60-day operation recently but will continue in other forms later. More than 20 new physical bookstores opened in Shanghai during 2017, attracting readers with nice appearance, good experience and added value, and more are being prepared for operation in 2018.
  "Warm the tea and light up for travelers at night" is the title of an article written by Liu Jun, the founder of Dayin Bookmall when it was first opened in 2016. Now it has expanded to 6 stores and the sixth one to be opened in the Yangpu District, Shanghai this month covers 1,300 square meters with public reading space, tea space, life aesthetics hall and even a studio.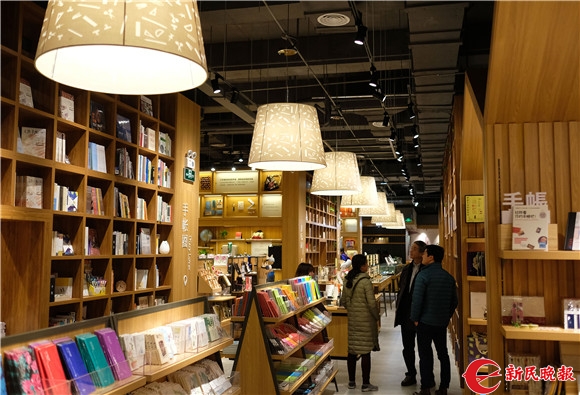 Newly opened Baixin Bookstore [Photo/Xinmin Evening News]
  Mr. Liu said,"We ran books in the past, later the space, and now the readers. There couldn't be more books in physical books than online, so the only reason people come to the store is the wonderful cultural experience." Dayin Bookmall always holds rich cultural events, greatly increasing readers' stickiness and loyalty, such as book sharing and exchanges, creative hand-made bazaar and inheritance of intangible cultural heritage.