An exhibition themed at "Shanghai illustration 1900-1999" is being held at Shanghai Xuhui Art Museum. Almost 200 exhibits are to present the brief history of 20th century's Shanghai illustration.
In the first floor hall, one hundred illustrations which are pages of newspapers and magazines, children's books, scientific drawings, etc. miniaturize life in Shanghai from year 1900 to 1999, including revolutionary stories,"East to West" movement to industrial development of New China, the reform and opening up, etc.
Some of these works are from painting masters, such as Liu Haisu, Feng Zikai, Zhang Leping, etc. Illustrations draw by literary masters themselves in their articles are also on display in the exhibition.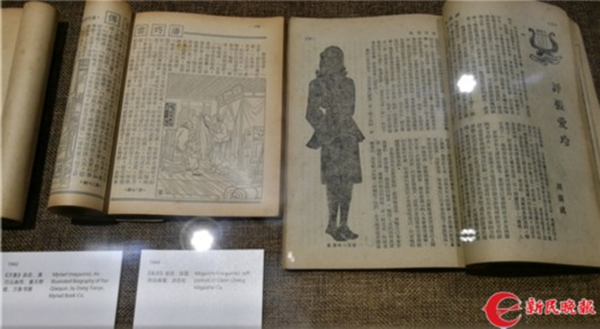 A self- portrait of Zhang Ai-ling in Hu Lancheng's article "A review of Zhang Ai-ling".[Photo/ newsxmwb.xinmin.cn]
According to Jiang Qinggong, an artist who co-sponsored the exhibition with Xuhu Art Museum, from the traditional printing era to the new media era, the diversified forms of illustration in his memory manifest the development of city culture.
"It is unexpected that over the past one hundred years so many celebrities born in Shanghai or living here have been involved in illustration production, however, our research of the history of Shanghai local illustration is still not enough. I would like to make use of this exhibition to refresh people's understanding of the history."