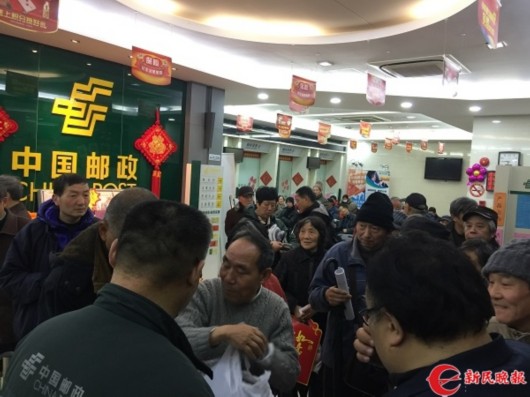 Citizens queue up at a post office to buy Lunar New Year stamps. [Photo/Xinmin.cn]
As the Year of the Dog is coming, Chinese people are busy purchasing Chinese Zodiac stamps. At 6:30 a.m. on January 5, eighty-seven outlets of China Post in Shanghai issued the first stamps for the Lunar New Year of 2018.

At a post office in Putuo District, many citizens arrived hours ahead of the issuance time. The rain didn't dampen their enthusiasm at all. Most of them were elderly people, who were not familiar with the online booking procedure but preferred to wait in line. Nevertheless, their arrival made the event a big party of stamp collectors.

Standing in front of the line was a philatelist couple, who had been waiting at the post office in turn for six days and nights only to buy the stamps as soon as they were released. They were more excited than tired when finally getting the long-awaited collection. They have been collecting stamps since 1996. "Each time there are new stamps coming out, we come to buy them," said the couple. "Of course we feel tired when waiting, but we love it!"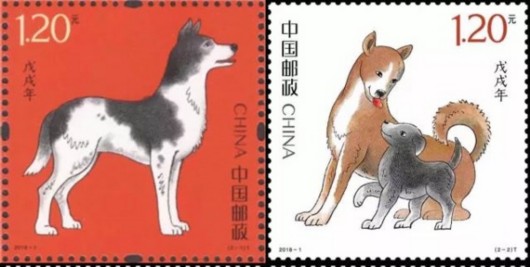 The special collection unveiled on January 5 includes two stamps. [Photo/Xinmin.cn]
The special collection unveiled on January 5 includes two stamps. One depicts a male dog at alert, with his head raising, symbolizing a safe year, while the other features a female dog and a cub cuddling together affectionately. Designed by famous Chinese artist Zhou Lingzhao, who is also the designer of China's first Year of the Dog stamp, the collection enjoys a high popularity this year.